A businessman who was found guilty of selling fake bomb detectors to countries such as Hong Kong and Saudi Arabia has been jailed for seven years.
Gary Bolton, 47, was found guilty of selling the "completely ineffectual" detectors around the world for about £10,000 each, making him a total of £45m.
The so-called "GT200" device, also known as the Mole, turned out to be nothing more than antennae glued onto an empty box.
Upon sentencing at the Old Bailey, Judge Justice Hone told Bolton: "You damaged the reputation of British trade abroad having duped agencies supporting quality, rather than your dross.
"Soldiers and police put their trust in a device which worked no better than random chance."
Bolton, of Chatham, Kent, denied the fraud charges between 2007 and 2012. He claimed the boxes could also detect drugs, ivory, tobacco and even money when selling the devices.
They had been assembled by Bolton at his home in Chatham, Kent, and at his company Global Technical Ltd, which had a turnover of £3m.
He told his clients that the hand-held devices worked within a range of 700 metres (2,300ft) at ground level and up to 2.5 miles (4km) in the air.
Bolton also claimed the devices were effective through water, earth, lead-lined and metal walls.
Tests conducted in 2001 showed the device had a detection rate of only 9%. In 2010, a Home Office defence expert found Bolton's device had no functioning parts, and therefore had "no credibility as an explosive detector".
Further tests showed that the devices performed no better than mere pot luck when searching for explosives.
Human rights campaigners in Thailand say the country's use of the bogus device may have cost lives.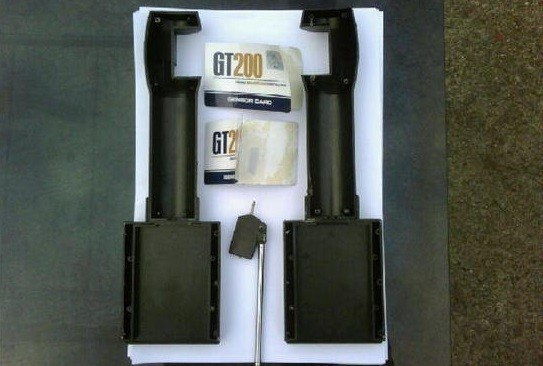 Hone added: "You were determined to bolster the illusion that the devices worked and you knew there was a spurious science to produce that end.
"They had a random detection rate. They were useless.
"Soldiers, police officers, customs officers and many others put their trust in a device which worked no better than random chance.
"The jury found you knew this but you carried on. Your profits were enormous."
Det insp Roger Cook, from the City of London Police, said Bolton put "people's lives and livelihoods at serious risk, but his sole consideration was how much money he could make.
"Bringing Bolton to justice is the result of a long, complex and far-reaching international investigation and his seven-year prison sentence should act as a warning to others who seek to act corruptly overseas with the belief that they will go undetected."
Bolton's sentence follows that of his former business partner Jim McCormick, who was jailed for 10 years in May for selling around £50m worth of similar devices, including to post-war Iraq.
The designs of the fake devices were based on nothing more than novelty golf ball finders.