Topless Lesbians Ambush Pope in Vatican Breast Protest
Femen protesters demand gay marriage rights and tell Benedict XVI to shut up.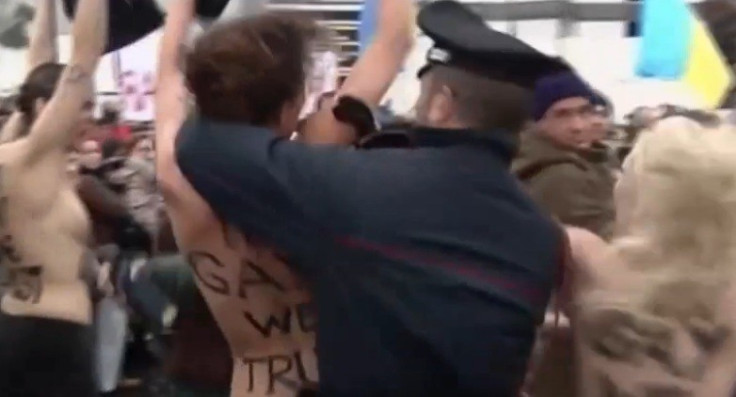 A group of militant lesbians stripped off in St Peter's Square and told Pope Benedict XVI to "shut up" during a speech.
The four women bared their breasts while worshippers listened to an address by the Holy Father from the balcony.
They branded the German pontiff a "homophobe" in a noisy protest which shocked onlookers.
Members of militant Ukraine group Femen painted the slogan "In Gay we Trust" on to their naked torsos before they were dragged away by police.
The Vatican's opposition to gay marriage and gay adoption made the protest necessary, organisers said.
Protester Inna Shevchenko said: "We go with a message to the pope to shut his mouth and not to give his advice to those people who decide to legalise gay marriage. We are here to protest at homophobia."
The protest followed a denunciation of gay adoption in an editorial by Vatican newspaper, L'Osservatore Romano. It spoke out in defence of the traditional family unit, after a court said that opposing gay adoption was "prejudicial."
Admitting that children often grew up without a mother or father, the editorial said: "But no one believes that these situations should be created just because in some cases they don't cause damage.
"The human is the masculine and the feminine. The monogamous family is the ideal place to learn the meaning of human relations and is the environment where the best form of growth is possible."
The pro-gay protest in Vatican City came on the same day as hundreds of thousands of people took to the streets of Paris against gay marriage plans.
© Copyright IBTimes 2023. All rights reserved.