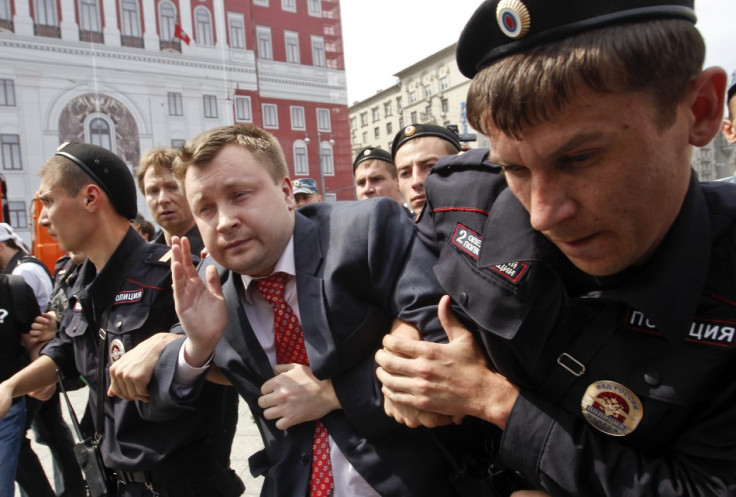 At least 30 gay rights campaigners have been arrested amid violent clashes in Moscow after they defied a ban on protests to stage the rally on Saturday.
The arrests included one of Russia's leading equality activists, Nikolai Alexeyev, who was detained on charges of holding an unsanctioned protest.
Activists ignored a warning by city authorities that any march would be "thwarted", with protesters arrested and fined.
Violence broke out as Orthodox Christian vigilantes carrying icons and crucifixes clashed with the activists, who had unfurled raibow banners in front of Moscow's lower parliament building to denounce laws they say discriminate against homosexuality.
One rally opponent was arrrested after assaulting a gay rights protester, Interfax news agency reported.
The protests were sparked after a young gay man was tortured and killed in the industrial city of Volgograd, formerly Stalingrad, which reheated the debate over widespread homophobia in Russia.
Vladislav Tornovoi, 22, was found dead earlier this month in a children's playground outside the block of flats where he grew up.
He had been stripped, abused with beer bottles, and beaten with a concrete block. His killers then set light to his body.
Human rights groups claim conditions are increasingly dangerous for gay people in the country, and have condemned the Kremlin-backed legislation.
The two suspects were both friends of the victim. One of them confessed they killed him because he told them he was gay, police said.
Asked by a detective why he killed his friend, he replied: "Because he said he was a fag."
Tornovoi's father Andrei said his son's injuries were so severe that doctors advised him against viewing the body, and Vladislav was buried in a closed casket.
Post-mortem examinations found the cause of death was blunt trauma to the head, but also found serious internal injuries and genital mutilation.
But even Andrei Tornovoi refused to accept his son could have been gay, saying that would dishonour his memory.
"It was a shock when his friends and relatives heard that he was gay. What are you talking about, how can he be gay? He was living a normal life," said Andrei.
One former classmate of Vladislav, Valeriya Goran, said the suspects had been congratulated on Russian social networks.
"People wrote 'less gays - more happiness', 'These guys who killed our Vlad were right'," said Goran.
The government is in the process of passing a federal law making it illegal to teach children about homosexuality, and making those who propagate "homosexual propaganda" liable for fines.
A recent poll showed more than three quarters of the population think homosexuality is either a bad habit, a disease or the result of trauma. Some 73% said gay behaviour in public should be banned.
Homosexuality was decriminalised in Russia in 1993, but activists say the Kremlin's policies have led to a growing wave of attacks.