A two-year-old Palestinian girl and a woman, 40, are believed to have become the first fatalities of the Gaza conflict since the ceasefire began to falter.
According to Ashraf al Kidra, a spokesman for local emergency services, both victims died when a house was destroyed by a blast in Gaza City. Thousands of Gaza residents are said to have fled to shelters as Israel launched its assault.
Israel says it responded following rockets launched by militants from Gaza. Two were shot down by the Iron Dome defence system and one is said to have landed in Tel Aviv but caused no injuries.
Israeli spokesman Mark Regev said: "This rocket attack was a grave and direct violation of the ceasefire. The Cairo talks were based on an agreed premise of a total cessation of hostilities. When Hamas breaks the ceasefire, they also break the premise for the Cairo talks. Accordingly, the Israeli team has been called back."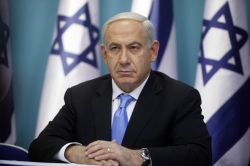 No-one has claimed responsibility for the rockets from Gaza, though shortly before they were launched Hamas spokesman Fawzi Barhoum said, "If Netanyahu doesn't understand ... the language of politics in Cairo, we know how to make him understand."
Israeli PM Benjamin Netanyahu ordered a delegation of officials home from Cairo where Egypt was attempting to broker a truce. Hamas said progress in talks was being hindered by the "Zionist occupation" of Palestinian lands. Hamas is demanding an end to the Israeli blockade of Gaza but Israel says Hamas must first disarm.
Today's violence comes hours before a 24-hour extension of a five-day ceasefire was due to end. Since the beginning of Operation Protective Edge last month 2,018 Palestinians are said to have died, along with 66 Israelis and one Thai national.