Gaza Strip: British Diplomat Pictured Wearing 'Free Palestine' Scarf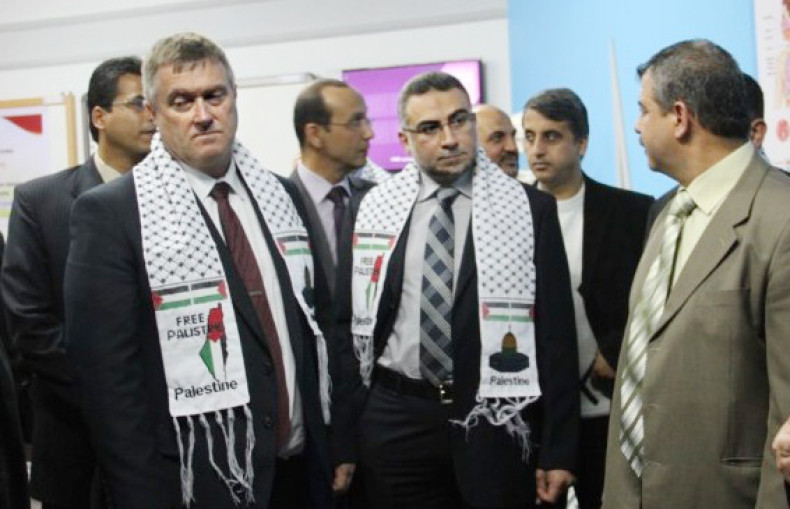 A photograph has emerged of the British Consul-General to Jerusalem, Alastair McPhail, wearing a keffiyeh scarf emblazoned with the politically controversial slogan 'Free Palestine' on a visit to Gaza.
The image has been published on the Islamic Relief Palestine website, showing a Palestinian flag and the land of Palestine before the 1947 United Nations Partition Plan which created the State of Israel.
The scarf's image is particularly controversial today as it appears to advocate the removal of Israel from the region and the creation of a full Palestinian state in its place.
According to Ynet News, the photograph was taken during a visit to Gaza City earlier this year to open a new laboratory at the Al-Azhar University, partly funded by the British government.
The Foreign and Commonwealth Office (FCO) refused to be drawn on the scarf McPhail is wearing, instead stating its position on the Israeli-Palestinian conflict which is, in essence, a de-facto denial that McPhail was making any form of political statement by wearing the scarf.
"The UK Government's position on the Israeli-Palestinian conflict has not changed," a Foreign and Commonwealth Office (FCO) spokesman told IBTimes UK when asked about the picture of McPhail.
"The UK's longstanding position is that we support a negotiated settlement leading to a safe and secure Israel living alongside a viable and sovereign Palestinian state, based on 1967 borders with agreed land swaps, Jerusalem as the shared capital of both states, and a just, fair and agreed settlement for refugees. The UK will continue to do all it can to support and advance efforts to resolve the conflict."
Britain has long been an ally of Israel and Prime Minister David Cameron has reiterated Israel's right to defend itself. However, he has faced criticism from within his own party for his stance on the Gaza conflict.
Foreign Office minister Baroness Warsi recently resigned from her position and called the Conservative government policy on Gaza "morally indefensible".
In response to Israel's ground and air offensive on the territory, the government said it would suspend a number of its arms export licenses to the country if Gaza hostilities flared up again, following concerns that some UK-made components could be used by the Israeli military on Gaza's population.