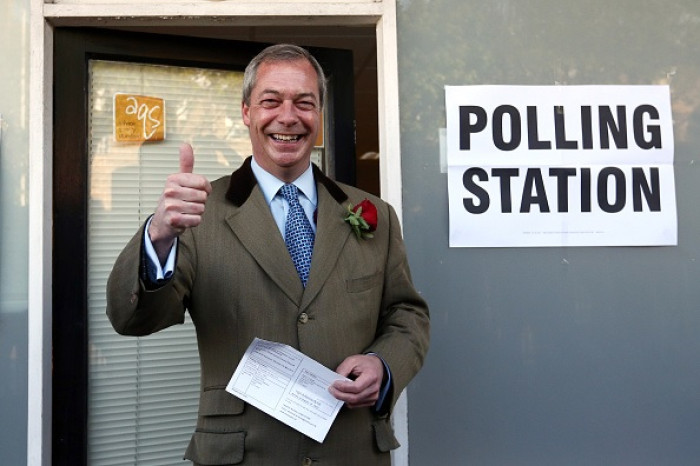 The result of the 2015 general election was the "most disproportionate" in history and using a differing voting system would have seen Ukip win as many as 80 seats, according to a report.
Analysis by the Electoral Reform Society (EFS) revealed that 50% of votes during the election – around 22 million – went to losing candidates, with 331 of 650 MPs elected on under 50% of the vote, and 191 with less than 30% of the electorate.
The EFS said using a list-based system of proportional representation, similar to the kind used in European elections, would have seen Nigel Farge's party win as many as 80 seats and the Greens 20.
Both parties ended up with just one MP each following the election despite gaining more than five million votes combined.
Using this system would have also seen the Conservatives end up with 89 less seats than the current First Past the Post system (242). Labour would have also dropped down 24 seats to 209 and the SNP would have 26 less seats on 30.
The Liberal Democrats would have also won 39 more seats than they did in the election (47) if Britain used the alternative voting system.
Elsewhere, the report titled The 2015 General Election: A Voting System in Crisis found that using a single transferable vote (STV) system, the Tories would have won 276 seats (-55), Labour 236 (+4), the SNP 34 (-22), the Lib Dems 26 (+18), Ukip 54 (+53) and the Greens 3 (+2).
However, under a vote system where voters' preferences are reallocated until one candidate gets over 50%, analysis found the results would not chance too much, with the Conservatives winning 337 seats - an increase of six – and Ukip and Green parties still ending up with one seat each.
Katie Ghose, chief executive of the ERS, is calling for a chance in the current voting system as the one currently being used is "breaking up Britain".
She said: "This report shows definitively that our voting system is bust. 7 May was the most disproportionate election in British history – and it's about time we had a fairer system for electing our MPs.
"That nearly three quarters of votes were wasted this election shows that we have a democratic crisis on our hands, with most people's votes not counting. We have an archaic and divisive voting system that leaves millions disenfranchised and forces millions more to feel that they have to vote for a 'lesser evil' – instead of who they really support. The Greens and UKIP won 5m votes and just two seats between them. This is simply unsustainable – and can only end badly.
Ghose added: "This report lays out the problem – and the alternatives. We can't afford to see a repeat of the 2015 election, with the majority of MPs elected on less than half the vote and a government winning a majority on just over a third of votes.
"The government now needs to act to ensure people aren't driven even further from politics. As we've shown today, democracy doesn't have to be like this. It's time for our voting system to move into the 21stcentury."