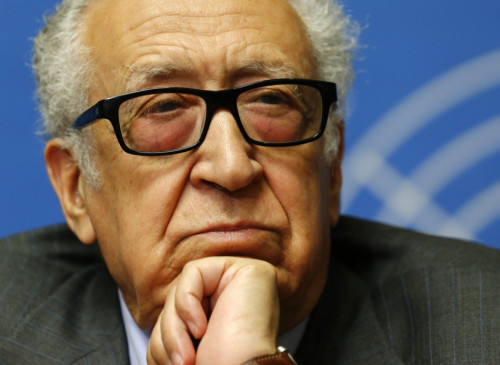 Syrian government and opposition delegates will meet "in the same room" in Geneva on Saturday (25 Janaury) to discuss ways to end the three-year-old visil war, UN mediator Lakhdar Brahimi has said.
"The discussions were encouraging and we're looking forward to meet tomorrow and after tomorrow," he said.
"The process is based on the Geneva communique and the two parties understand that and accept it."
The breakthrough came as the entire peace process was on the verge of unravelling over intransigence on both sides. Negotiations chaired by Brahimi should have started today.
The government delegation threatened to go home if "serious" discussions did not start and the opposition delegation said it would not take part in direct negotiations with Bashar al-Assad's representatives unless the principle of negotiations on a transitional government to replace the Assad regime was accepted.
The Syrian delegation added that it had agreed to attend the Geneva talks "without preconditions" and said it would not sign the so-called "Geneva 1" communique.
But Brahimi said that he was sure that no side would be leaving over the weekend. Both opposition and the government accepted the Geneva communique, he added.
"We knew this would be a difficult and complicated process. Certainty is a very rare commodity," he said.
"I hope the people who support either party understand what's at stake and do their job in supporting the process."
Brahimi confirmed that humanitarian issues will be discussed at the meeting.