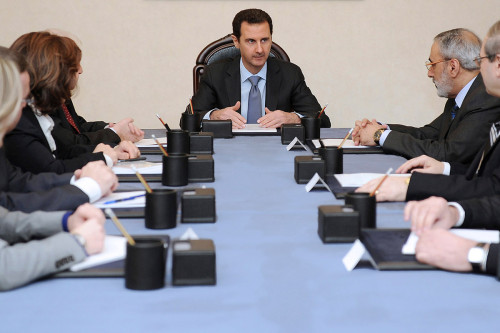 Thirty countries have sent envoys to Geneva to attend the second session of the peace conference aimed at ending the Syrian conflict.
But prospects of success are low. Here's why:
Disagreements among states representatives
UN Secretary General Ban Ki-moon urged all parties to engage in constructive talks but Geneva 2 got under way with rancorous speeches.
US secretary of state John Kerry emphasised the urgent need for President Bashar al-Assad to step down.
"We see only one option: negotiating a transition government born by mutual consent," he said. "There is no way, no way possible, that a man who has led a brutal response to his own people can regain legitimacy to govern."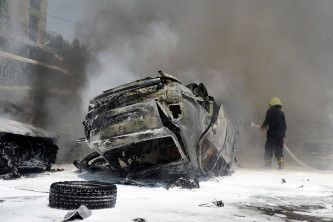 Syria's foreign minister Walid Muallem, during his opening speech, said: "No-one in the world has the right to confer or withdraw the legitimacy of a president, a constitution or a law, except for the Syrians themselves".
Muallem then added that some countries attending the conference had "Syrian blood on their hands".
The US State Department condemned Muallem's remarks as "inflammatory" and urged the government to take "real, concrete steps to increase humanitarian access and improve the lives of the people suffering the most".
Assad will not step down
The creation of a transitional government with full executive powers that could include members of the government and opposition is a necessary precondition for Syria to peacefully hold new elections.
According to the Geneva Communique, released in June, any political settlement must offer a perspective for the future that can be shared by all in Syria. The communique said that the transition had to be credible, and reached quickly in an atmosphere of safety, stability and calm with no bloodshed.
Assad, however, said that he would not step down nor share power with the opposition. The Syrian president also said he intended to run for re-election and that the talks should conentrate on the fight against terrorism, instead of his presidency.
"If we wanted to surrender we would have surrendered from the start," Assad told Russian MPs in Damascus, according to Interfax news agency.
No meeting of minds
Forces loyal to the government and to the rebels have been fighting for almost three years.
According to Britain's foreign secretary William Hague, it would be wrong to expect any major progress in Geneva 2.
"These are two sides coming to a conference with very differing views of what they are prepared to do," Hague said.
Opposition leader Ahmed Jarba accused Assad of Nazi-style war crimes and demanded that the Syrian government delegation signed up to an international plan for handing over power.
However, Moualem insisted that Assad would not step down.
Assad tolf AFP news agency: "The Syrian conflict is not as Western propaganda portrays, a popular uprising against a regime suppressing its people and a revolution calling for democracy and freedom. Moreover, a national revolution cannot have a foreign agenda."
With more than 130,000 people dying in the conflict and 9.5 million driven from their homes the end of the war seems very far off.
Other peace conferences will be perhaps necessary for the warring sides to agree on a ceasefire and form a transitional government together.
The future of Assad is, for now, not on the table.
Iran is excluded
The UN withdrew its invitation to Iran to attend the Geneva 2 talks after the main anti-Assad group, the Syrian National Coalition (SNC), threatened to boycott the conference.
The surprise last-minute offer extended to Iran, an ally of the Assad regime, had angered both the US and the Western-backed Syrian opposition bloc.
"The US knows very well that if ever the day comes that Bashar al-Assad needs to go quietly, Iran is the only country capable of achieving that", Iranian journalist Mashallah Shamsolvaezin told the New York Times.
Deputy foreign minister Abbas Araqchi told state television that there was little chance of peace without Tehran's involvement, according to Arab News.
"It is clear that a comprehensive solution to the Syria issue will not be found when all influential parties are not involved in the process," Araqchi said.
Russia, too, was angry.
"Too bad Iran is not present at the conference. Its presence is necessary in every sense," Russian Arabist and Islamic scholar Pavel Gusterin told Pravda.Ru.
"Iran has close direct contacts with the government of Bashar al-Assad, and these contacts exist to provide assistance in the fight against international terrorism," he added.
Ban's decision to revoke the invitation was "a mistake", said Russian foreign minister Sergey Lavrov.
A referendum in Syria must follow Geneva 2
Any result of the peace conference must be put up for a referendum in Syria, Muallem said.
"Only Syrian citizens are entitled to determine the future of their homeland," Muallem noted during the opening speech.
"We should give a joint rebuff to terrorism and should fight for a peaceful future in Syria. The dialogue between the Syrians should take place on Syrian soil," the foreign minister continued.