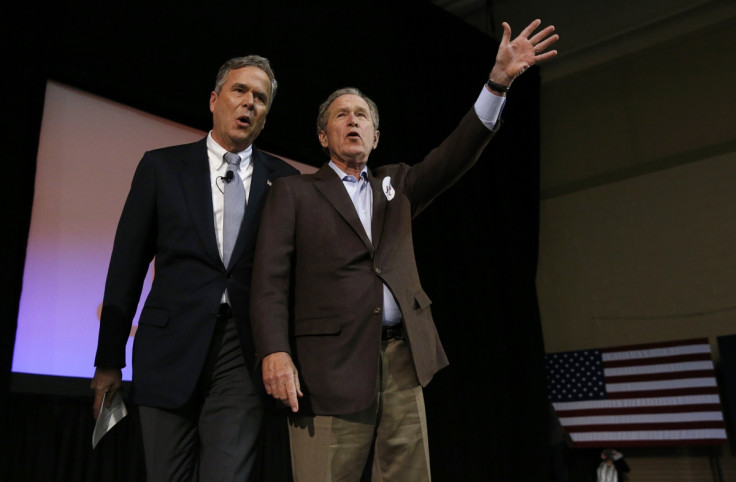 Presidential candidate Jeb Bush sought help from big brother and former US President George W Bush to resurface his campaign. During a rally in South Carolina on 15 February, George took the stage to promote his younger sibling and fire out at GOP candidate Donald Trump.
While the former Florida governor insisted last year on keeping his famous family out of the campaign, he finally decided that it was the right time to bring in the big guns, since his campaign was progressing slowly, despite the huge cash spends.
"I came here for two reasons: one because I care deeply about Jeb, and two because I care deeply about our country," the former US president said as he stepped onto the podium.
In an earlier debate, Donald Trump, one of the current forerunners in the election attacked the George Bush government and accused it of lying to Americans about the reasons for the Iraq war. "I want to tell you - they [Bush administration] lied," Trump said. "They said there were weapons of mass destruction, there were none. And they knew there were none."
He even went on and pointed out that it was during George's time as president that the 9/11 attacks happened. "The World Trade Center came down during your brother's reign, remember that," he stressed.
Reacting to Trump's comments at the South Carolina rally for US military veterans, the ex-Potus said, "We do not need someone in the Oval Office who mirrors and inflames our anger and frustration. This is a serious election for a serious job.
"Strength is not empty rhetoric. It is not bluster. It is not theatrics. There seems to be a lot of name calling going on, but I want to remind you what our good dad told me one time. Labels are for soup cans," George added.
Turning his attention back to Jeb, he stated, "In my experience, the strongest person usually isn't the loudest one in the room. I've seen in my brother a quiet conviction and a core of conscience that cannot be shaken. And my hope is that the people of South Carolina will see this as well."
On the other hand, taking direct aim at Trump's 9/11 jibes, Jeb Bush defended his brother saying, "I thought it was a little strange that a front-running candidate would attack the President of the United States who did keep us safe while he was building a reality TV show."
While many among the audience at the rally found the public support of their earlier president towards Jeb Bush as a positive sign, others were unsure if the late appearance in the presidential race will earn the desired effect. South Carolina heads for its primary elections on 20 February.