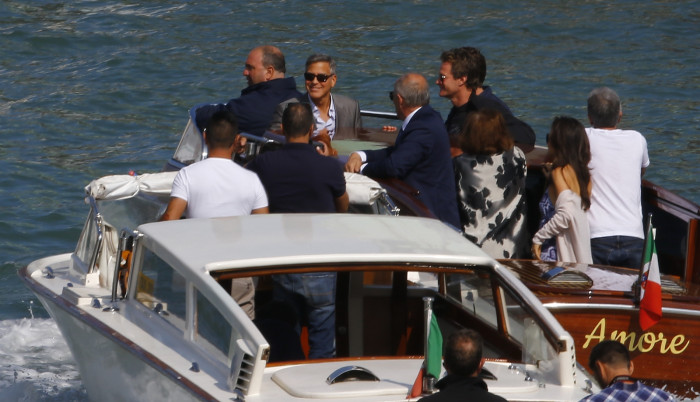 Matt Damon, Brad Pitt, Bono and other 'A' list celebrities are descending on Venice in Italy ahead of Monday's wedding between Hollywood superstar George Clooney and British human rights lawyer Amal Alamuddin.
The celebrations are taking place over the weekend, with Monday's civil ceremony taking place at a local town hall-owned palazzo. Clooney's friend, the former mayor of Rome Walter Veltroni, will officiate. Vogue editor Anna Wintour is believed to be advising Ms Alamuddin on her dress. The final bill for the wedding is estimated to top $12m (£7.4m).
This evening a lavish party will take place at the seven star Hotel Cipriani, Clooney's hotel of choice when staying in the city for the film festival. Clooney's suite costs some £3,000 a night, according to the BBC. There have reportedly been chaotic scenes as the paparazzi descend on jetties, swarm on boats and hang off bridges hoping to get lucrative pictures of the golden couple.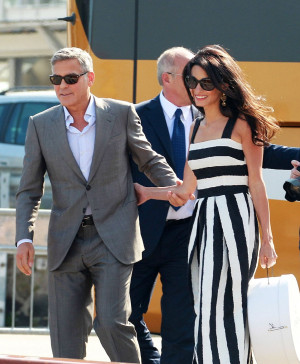 However many locals are somewhat bemused by the media scrum, having seen it all before – and some are unhappy that there doesn't seem to be much in it for local business. Local gondolier Vittorio Manfré told The Guardian he hadn't had any work as a result, perhaps because it's hard to keep a low profile when travelling by Venice's most famous mode of transport. Local media have speculated the Grand Canal could be closed, which means the gondoliers lose business. "We have to work!" said Manfré.
Since separating from former wife Talia Balsam in 1993 Clooney, 53, has claimed he wasn't marriage material. "I am never at home and every woman gets sick of it," he once said. "If I was them, I would never put up with me for long, and they don't."
However all that appears to have changed since Clooney met British lawyer and author Amal Alamuddin, 36, through a mutual friend at a charity event. When she refused to take his number he is alleged to have emailed: "I think the reported hottest man in the world should meet with the hottest human rights lawyer in the world."
Alamuddin accepted and the two embarked on a whirlwind romance. Earlier this year Clooney refused to accept an apology from the Daily Mail when it claimed Alamuddin's Druze mother opposed the wedding because Clooney wasn't of the same faith. Clooney wrote: "To exploit religious differences where none exist is at the very least negligent and more appropriately dangerous."