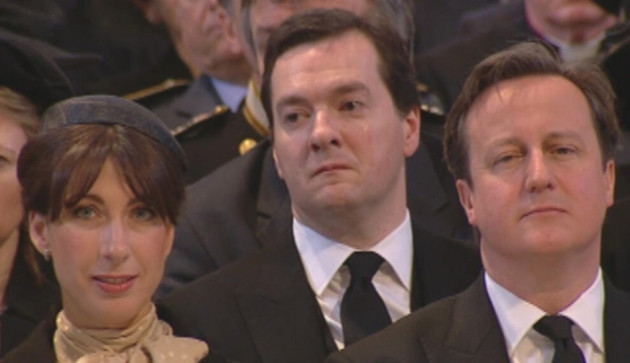 Pictures of Chancellor George Osborne crying at the funeral of Margaret Thatcher have led to a flood of mocking tweets from social media users.
The chancellor's erratic behaviour has been the subject of much speculation today, with Osborne shown laughing prior to the start of the funeral service.
His odd behaviour was pointed out by Channel 4 broadcaster Jon Snow, who tweeted: "Just seen George Osborne on a bus going up Fleet Street toward St Paul's he pointed at me through the darkened window."
A number of people noticed that before the service started, Osborne found something highly amusing.
Elliott Clarkson said: "So far I've seen clips from St Paul's of John Major laughing, George Osborne laughing and Boris Johnson laughing. That's the spirit, lads."
Joe Tarpey said: "What are you laughing at George Osborne?"
However, Osborne's tears of morth soon turned to tears of sadness as the service at St Paul's Cathedral got underway.
He was pictured as a single tear rolled down his cheek and then as he wiped it away.
Wow!
Osborne made his warm feelings towards Thatcher known the day after she died in an article for the Times.
In it, he told how he had a conversation with Thatcher when Labour was in power and he was shadow chancellor.
"She was flowing with advice to me: you can't spend what your country hasn't got; strong defence rests on a strong economy; in parliament, if you're not on the attack you're in retreat," he wrote.
"Wow! I saw for myself for the first and only time why she had been such a force of political nature throughout my whole life."
Osborne was widely criticised for the £10m spent on Thatcher's funeral. Following his emotional outbreak at the service, social media users took to Twitter to express their own feelings.
Tom Morgan said: "So George Osborne was crying at Maggie Thatcher's funeral? Probably because it was paid for out of his budget!"
James Silcocks said: "Breaking News: George Osborne cries on TV in a cynical attempt to trick voters into thinking he's capable of human emotion and compassion."
Horatio Tolatop added: "£10M just to see George Osborne crying turned out to be worth every penny!"
However, others were more compassionate to the chancellor. A user named Essie said: "The reaction to George Osborne crying at Thatcher funeral..shocking! Cant someone be free to express feelings anymore...."
Sofia Petkar also defended Osborne, adding: "How can anyone criticise Chancellor George Osborne for crying at Thatcher's funeral?! It proves he's human & not a bloody stone after all."