George Osborne and Ed Balls have both refused to rule out that Labour and Conservatives could do deals with the SNP and Ukip to secure the keys to Downing Street.
The Chancellor and his Shadow Chancellor counterpart both appeared on BBC's Andrew Marr Show ahead of this week's Budget – the final statement on the economy before the 7 May general Election.
Both Osborne and Balls said their parties were fighting for an overall majority in the House of Commons but with polls pointing towards a hung parliament, one outcome is another coalition government.
Asked to rule out a deal with the SNP, Balls said: "Ed Miliband says it is nonsense, it is not part of our plans. We are fighting for a majority. It is utter nonsense."
He said Tory plans to paint the Labour party as the one in the pocket of the SNP was part of David Cameron's attempt to "divert attention" away from his "cowardly" decision to shun a head-to-head debate with Miliband.
When Osborne was asked of a possible Conservative/Ukip pact, the Chancellor was scathing of Nigel Farage: "Even engaging with Nigel Farage is giving him credibility and he has no credibility. A vote for Nigel Farage is a vote for the Labour party, a vote for Ed Miliband as prime minister, and it means no referendum on Europe. And people need to know that.
"Nigel Farage and indeed Ed Balls are trying to muddy the waters. Nigel Farage will not have seats in the House of Commons. The SNP are likely to have dozens because of the collapse of the Labour Party."
Defence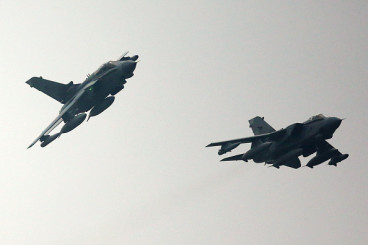 During their appearances on the BBC show, neither Osborne nor Balls would commit to maintaining defence spending to at least 2% of GDP.
The UK is just one of four Nato members that currently commits 2% of national income to defence spending.
But neither Osborne nor Balls would say whether Conservatives and Labour would continue that commitment after the election.
The Chancellor highlighted the Tories had spent £160bn ($235.91bn) on new aircraft, submarines and ships, as well as equipment for soldiers, but delayed making a decision.
"The right time to decide the defence budget is when we have a Strategic Defence Review," Osborne said.
Balls said Labour would "back all the way" the UK's defence but that any decision on spending would have to wait until after he had opened the books.
Cuts
After the Institute of Fiscal studies calculated 60% of austerity cuts were to come in the next parliament, Balls attacked Osborne's deficit reduction plan and proposals for a £23b surplus.
Claiming Osborne would send the UK "back to the 1930s state", Balls said: "George wants to go way beyond the difficult task of balancing the books."
He said Osborne would inflict "deep searing cuts to police and defence".
The Chancellor responded saying £30b of cuts would come from government departments (£13b), welfare (£12b) and from targeting tax avoidance (£5b).
On the planned surplus, Osborne said it was important to "fix the roof while the sun is shining".
Handshake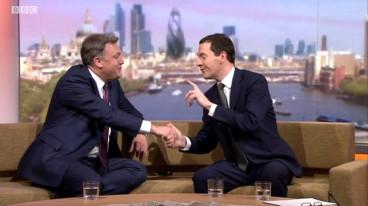 While it seems unlikely Cameron and Miliband will go head-to-head in a televised debate, Balls may have secured a coup by getting Osborne to shake on a debate between Treasury candidates.
Balls asked the Chancellor to agree to a debate ahead of the election, one which Osborne tentatively agreed to.
"I have an effective Chief Secretary (Liberal Democrat Danny Alexander) who will want to be part of that debate," Osborne said.