It has been an interesting day at the Leveson Inquiry, with as many questions left as answers were given by two of Britain's political big-hitters, chancellor George Osborne and former prime minister Gordon Brown.
Brown rejected claims by Rupert Murdoch that in a phonecall after the Sun, Britain's biggest newspaper, switched support from Labour to the Tories in 2010 the former prime minister said that he would "declare war" on the media mogul.
According to Brown, no such conversation took place and the only evidence for such an exchange is Murdoch's own testimony to the Leveson Inquiry.
Since Brown's evidence, a statement from News International has been released reasserting Murdoch's claim that the phonecall took place.
Both men can't be right, so who is lying?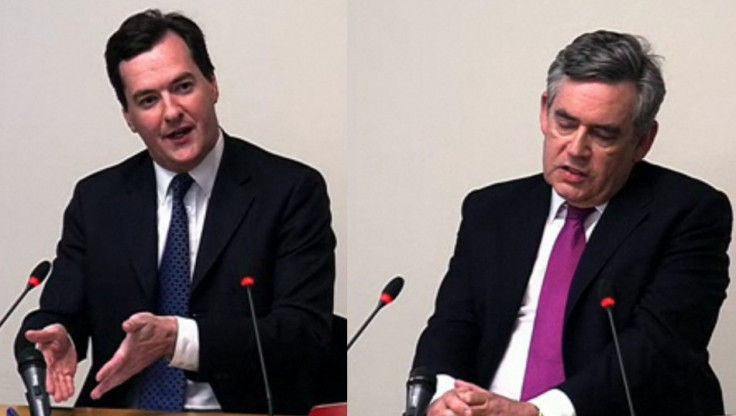 Then there is the claim by Brown that the Sun got a story about his son having cystic fibrosis, something he wanted to keep private, from NHS sources.
The Sun rejects this saying they have an interview with a man whose son was being treated at the same hospital and who had heard the news on the wards.
He supposedly went to the newspaper in order to raise the profile of the disease.
NHS Fife, which governs the hospital where Brown's son was treated, released a statement saying that it believes the information leaked from an NHS source.
So whose version is true, or is there some truth in both accounts?
Another claim by Brown is that he had no knowledge of, and did not authorise, anonymous hostile briefing of journalists by his spads, Charlie Whelan and Damian McBride, against the then prime minister Tony Blair.
However many of the lobby journalists who were working in parliament at the time have taken to Twitter to lambaste Brown for this alleged ignorance to the political dark arts being exercised by his people.
Indeed, some considered Brown a master of these arts who regularly engaged in them.
Did Brown really not know about this behind-the-scenes coup his spads were mounting when Blair was weakening as prime minister?
It isn't just Brown whose evidence leaves people scratching their heads.
Chancellor George Osborne was probed by counsel Robert Jay about Andy Coulson and the BSkyB bid by the Murdochs.
While the business secretary Vince Cable was considering whether or not to allow News Corporation's BSkyB bid to go through, which would have seen them take full control of the broadcaster, Murdoch's public affairs head Fred Michel had been texting one of Osborne's spads in order to glean some information or exert some influence.
Michel text Rupert Harrison, the spad, to see if Osborne would write to Cable expressing the "economic importance" of the News Corp/BSkyB merger.
"Rupert, just spoke with James [Murdoch]," Michel's text read.
"It would be helpful if George were to send a letter to Vince on our Sky merger and its economic importance, separate from the Ofcom process. Do you think it is a possibility? I can of course help with the content. Best, Fred."
Harrison replied: "Will have to discuss with G when he's back from china. R."
Osborne said that this was not acted on, there was never any communication on this subject between the treasury and the business department, and that Harrison was simply using his diplomatic skills to fob off Michel.
But this was a serious quasi-judicial decision of significant political importance.
Shouldn't Harrison have rejected Michel's advances outright? Why didn't Harrison or even Osborne explicitly point out that this communication not appropriate?
Then there is the question of Osborne's insistence on Andy Coulson, who is embroiled in the phone hacking scandal, being appointed as the prime minister's director of communications.
Coulson had already resigned from his editorship of News of the World because one of his journalists was caught illegally intercepting the royal family's voicemails.
Osborne told Leveson that he had assurances from Coulson that this is all there was to the hacking scandal and that, effectively, there were no more skeletons in the closet.
The chancellor also sought the opinions of Rebekah Brooks, Coulson's boss and personal friend at News International, on what he was like as an employee and a person.
Why did Osborne not seek deeper reassurance about the suitability of a man who had been embroiled in a criminal scandal than to simply ask the man himself and one of his friends?
It remains to be seen whether Lord Justice Leveson is content to leave both Osborne and Brown's evidence where it is, or if we will see both reappear to answer more probing questions.
Perhaps he will even feel compelled to ask the spads in for a chat.