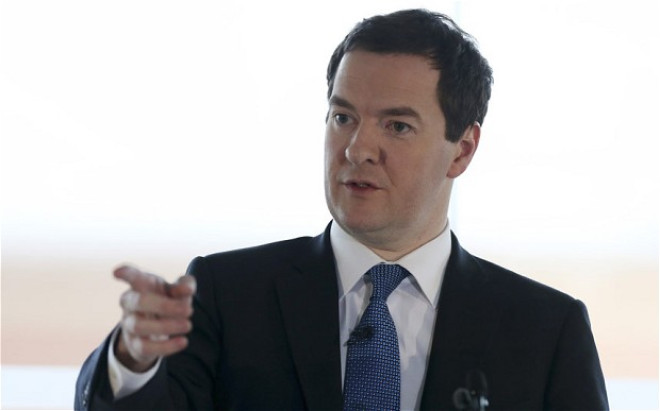 Chancellor George Osborne will launch a broadside against the economic policies of both Labour and Ukip during a speech in which he urges the British public to "reject the forces of pessimism on the left and the populist right".
Speaking at an event held by the Confederation of British Industry (CBI), Osborne will seek to build on criticism of the opposition Labour party that it is moving too far leftwards on the political spectrum.
And he will also paint Ukip as desiring to "pull up the drawbridge and shut Britain off from the rest of the world" ahead of the European and local elections where the right-wing party is expected to do well because of the electorate's frustrations with mainstream Westminster politics.
"Reject their anti-business, anti-free market, anti-jobs agenda which tries to play to the politics of anger," Osborne will say, according to remarks released ahead of his speech.
Of Labour and the left, he adds: "They want to set prices, regulate incomes, impose rent controls, wage war on big business, demonise wealth creation, renationalise industries – and pretend that they can re-establish control over all aspects of the economy.
"But price and income controls, re-nationalisations and erecting the government as the enemy of business and wealth creation will lead Britain down the path of relative economic decline."
Ukip's central campaign is to withdraw the UK from the European Union (EU) because it argues it is wasteful, undemocratic, bureaucratic, and saps national sovereignty away from its 28 member states.
In order to fight off Ukip and eurosceptics within his own party, Conservative Prime Minister David Cameron has promised a referendum on the UK's membership of the EU in 2017 if he wins the next general election.
Cameron and his chancellor Osborne both want the UK to stay in the EU because of the benefits of being in the single market, where British business can access a consumer base of half a billion citizens. Half of the UK's trade is with the EU.
Labour's shadow chancellor, Ed Balls, has said he would intervene in markets if he thought they were not working properly.
And Ed Miliband, Labour leader, has proposed a number of reforms to the private rental market, including the abolition of tenancy fees and the introduction of three year tenancy agreements.