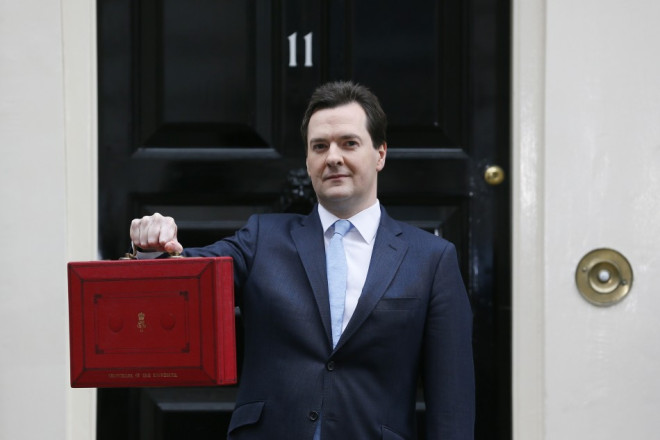 Less than 48 hours before chancellor George Osborne unveils the Budget he was facing a fresh row over claims he said there were "advantages" in people being drawn into the 40p tax rate.
Several sources confirmed the chancellor told MPs at a meeting in his office that people felt they were successful when they found themselves paying what is called by Revenue and Customs the higher rate and were more likely to vote Tory as a result.
"It means they feel they are a success and joining the aspirational classes. That means they are more likely to think like Conservatives and vote Conservative," he said.
"If they are paying 40p tax they have a greater interest in cutting government spending because they are paying for it. All the polling evidence suggests that I am right."
The Treasury issued a statement insisting Osborne had not said people "enjoyed" paying the higher rate and Downing Street was forced to bat away questions about the comments.
The row came as pressure intensified on the chancellor to ease the burden on 40p taxpayers.
Liberal Democrat chief secretary to the Treasury, Danny Alexander said: "Some Tories say help should be focused on 40p rate payers and not on every worker.
"The fact that raising the tax-free allowance is a Liberal Democrat idea is clearly deeply frustrating to many Conservatives if their public pressure for a different focus is any guide," he told the Evening Standard.
His words not only appeared to rule out the chancellor doing anything on the top rate of tax but were also part of the Lib Dem campaign to ensure they win recognition for the fact it was their policy to increase the starting-rate threshold, expected to rise again in the Budget.
Osborne had tried to claim credit for the policy on Sunday, telling the BBC's Andrew Marr programme: "Yes, you are taking the low-paid out of tax — which has been a longstanding Conservative ambition — but you are also helping those on middle incomes.
"It is only people right at the top, people on incomes of over £100,000, who don't get the benefit. It is a very effective instrument for making sure that hard-working people keep more of their money and I am very proud to be part of a government that has delivered that."
Taxpayers with an income of over £150,000 are eligible for the "additional rate", taxed at 45%.
But the chorus of voices urging him to offer some relief to the upper earners was joined by the Institute of Directors who said: "What was intended as a tax to hit the very wealthiest has now entrapped millions of hardworking people."
The chancellor's problem is that he needs to combat Labour's effective "cost of living crisis" campaign and underpin his much-lampooned claim that "we're all in it together".
Any move to take more high earners out of the top tax rate would be seized on by his opponents as further evidence he is helping the rich and powerful while the less well off are paying the price of the economic crisis.