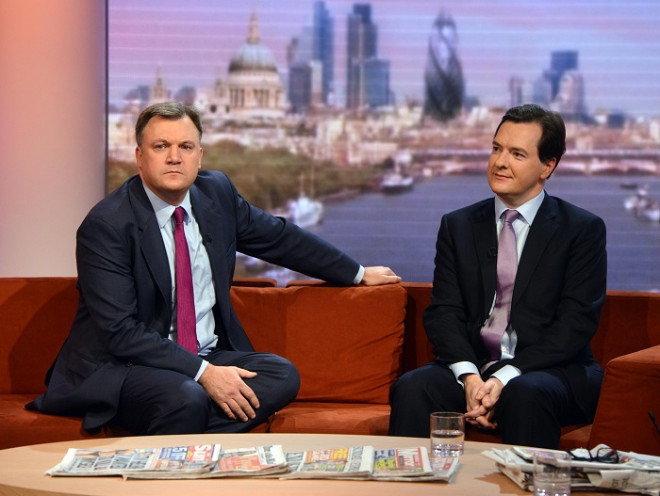 UK Chancellor George Osborne and Shadow Chancellor Ed Balls have outlined their competing messages ahead of next week's March Budget.
Speaking on the BBC's Andrew Marr Show, Osborne said the coalition government's controversial welfare reforms are "one of the most progressive things any government has ever done", and revealed that the Help to Buy scheme for newly built homes would be extended to 2020.
"We had a welfare system that not only we couldn't afford, but also we had these very perverse incentives that made it better for some people to stay out of work than be in work," he said.
"We're changing all of that and the reforms that Iain Duncan Smith and myself have brought in are one of the most progressive things that any government has ever done."
However, his Labour counterpart accused Osborne of failing adequately to address the UK's "cost of living crisis" and said he has presided over the "lowest level of house-building since the 1920s".
Balls said Labour would take away the winter allowance from the richest pensioners, re-introduce the 50p tax rate on incomes over £150,000, and impose a "mansion tax" on properties worth more than £2m.
The shadow chancellor also said a future Labour government would bring back the 10p income tax rate, abolish the "unfair and perverse" marriage tax break, and use a bank levy to pay for more childcare for working parents.
"These things are all paid for," Balls said. "I am not making any spending commitments which we can't say how we'll pay for."
He also defended the previous Labour government's public spending record, saying the expenditures took place against the backdrop of a global financial crisis.
"At that point, we had the lowest level of national debt of any big country and George Osborne, the Conservative shadow chancellor, had matched Labour's level of public spending," Balls said.
"Am I going to apologise for the level of public spending that George Osborne, Alistair Darling and Gordon Brown agreed on in 2007? Absolutely not.
"We had a very low deficit [and] low national debt before the crisis. What happened was a collapse in tax revenues because of the crisis."
Meanwhile, Liberal Democrat Chief Secretary to the Treasury Danny Alexander said further rises to the personal tax allowance of up to £12,500 would be a "top priority" for the party in any negotiations.