George Osborne's austerity cuts trigger surge in evictions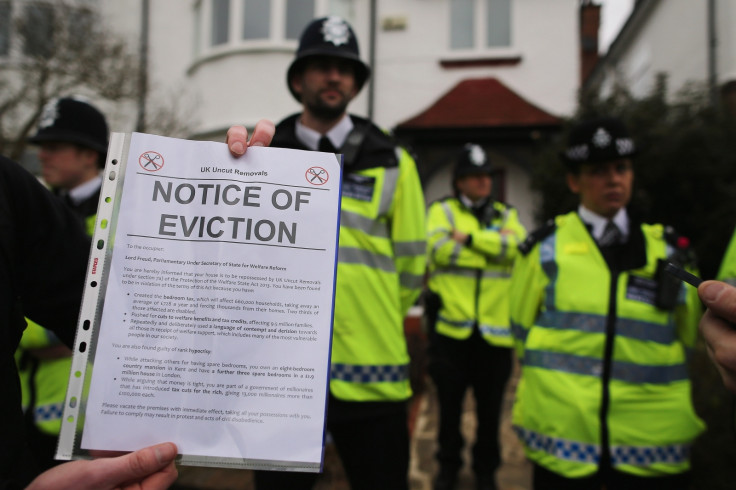 There has been a 46% increase in the number of people in England and Wales evicted from their homes since housing benefit cuts came into effect in 2011, government figures show.
According to Ministry of Justice figures more than 23,200 people may have lost their homes, with 10,361 rental repossessions by country court bailiffs between April and June 2015. During the same period in 2011, 7,072 rental evictions were recorded.
The number is also 10% higher than the same period in 2014.
Across Britain, rents are soaring, adding to the pressure on low and middle income tenants, with figures from HomeLet released on 10 August showing that the average rental price for a home in Britain had reached £1,000 a month, up by £100 from the previous year. The figures showed rental increases growing faster in the south-west of England.
The previous quarter saw more than 11,000 evicted from rental properties in England and Wales, an 8% increase from the previous year, and 43% increase from 2011, with 2015 on course to break the record levels for the number of tenants losing their homes.
The previous record was set last year, when 42,000 were evicted.
However, the number of landlord claims, the first step in the eviction process, were down by 6%, to their lowest point since 2012, and there was also a dip in the number of repossession orders and warrants.
Homelessness charity Shelter said that government welfare cuts and rising rental prices were leaving many unable to afford a home.
Shelter chief executive Campbell Robb said: "These figures are a stark warning that relentless rent rises and welfare cuts have contributed to thousands of hard-pressed families losing their home.
"Every day at Shelter we see the human cost of the country's unfolding affordability crisis with growing numbers of families finding themselves on the verge of homelessness, and petrified that any small drop in income could leave them with the bailiffs knocking at the door."
He called on the government to provide more affordable housing for those struggling on the rental market.
A Department for Communities and Local Government spokesman said: "Overall repossessions continue to fall being 17% lower than this time last year and the numbers of landlord possession claims are down 14% on the previous quarter at their lowest point since 2012.
"This is thanks to our work to cut the deficit inherited from the last administration and keep interest rates low, helping more families to stay in their hard earned homes.
"This government has kept strong protections to guard families against the threat of homelessness. We've increased spending to prevent homelessness, with more than £500m made available to help the most vulnerable in society and ensure we don't return to the bad old days when homelessness in England was nearly double what it is today."
© Copyright IBTimes 2023. All rights reserved.