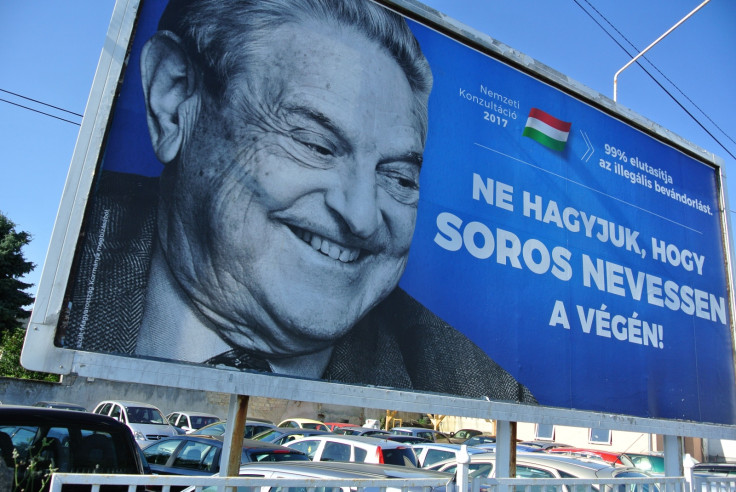 Israeli leader Benjamin Netanyahu has been accused of supporting an antisemitic poster in Hungary attacking Jewish Hungarian George Soros, in a play on the "laughing Jew" theme that featured in Nazi propaganda.
Hungary's right-wing prime minister Viktor Orban has launched a searing campaign against billionaire Soros, who is at odds with the right-wing, nationalist government in Budapest.
Posters have appeared in Hungarian streets showing a picture of the investor grinning, along with the caption: "Don't let Soros have the last laugh."
Israel's ambassador in Budapest had asked Orban to remove the images, which were compared to Nazi propaganda by Human Rights Watch.
But that intervention was swiftly undermined by a statement from the Israeli foreign ministry, the Jerusalem Post reports.
It said that while Israel "deplores any expression of antisemitism in any country... in no way was the [ambassador's] statement meant to delegitimize criticism of George Soros."
The statement was rounded on by opposition politicians in Israel, who say that Netanyahu was responsible for the ministry's statement and that he has form for sympathising with antisemitism on the global stage.
"This will not be the first time that neo-Nazis quote Netanyahu," Meretz party leader Zehava Gal-On said. "They still fondly remember his claim that the Mufti was responsible for the Holocaust."
In 2015, Netanyahu caused controversy when he claimed Hitler only decided to annihilate the Jews of Europe after a meeting with the Palestinian Arab leader Mufti Haj Amin al-Husseini.
"Make no mistake, this means something. Netanyahu's support legitimizes this despicable campaign, and antisemites around the world will use it," Gal-On said.
Soros, who survived the Nazi occupation of Hungary and moved to England in 1947 aged 17, has made enemies of both Orban and Netanyahu.
The foreign ministry statement said he "continuously undermines Israel's democratically elected governments by funding organisations that defame the Jewish state and seek to deny its right to defend itself."
The magnate has claimed in the past that Israel's foreign policy under Ariel Sharon was partly responsible for a resurgence of antisemitism in Europe.
The Hungarian government is trying to close down a liberal university funded by Soros. Orban has been incensed by the 86-year-old's repeated calls to allow more refugees into Europe.
There are around 50,000 Jews in Hungary. The head of the largest Jewish body described the posters as antisemitic.