German Chancellor Angela Merkel's conservative bloc has edged a small lead in a new poll over their main centre-left rivals with just over six months until federal elections.
The poll, by Forschungsgruppe Wahlen and for broadcaster ZDF, placed the CDU / CSU bloc on 34 points, just two ahead of the SPD who have enjoyed a surge in support over recent weeks.
Merkel and the centre-left SPD candidate Martin Schulz, who has boosted the party's fortunes since being nominated in January, were neck-and-neck in the personal popularity stakes, with both achieving 44% support.
The popularity poll was a major boost to Chancellor Merkel who in the same poll in February was 11 points behind Schulz.
Mr Schulz who was the President of the European Parliament from 2012 until January this year, has helped the SDP to a surge in the polls since announcing his candidacy to be chancellor, taking the party from almost 15 points behind Merkel's conservative bloc in mid-January, to leading some polls.
Support overall for the SDP has now reached its highest point for more than five years, but the difficulty will be in maintaining strong polling numbers if the 'Schulz-effect' wears off.
Schulz has campaigned to deal with social justice and revise labour market reforms that were introduced by former SPD chancellor Gerhard Schröder over a decade ago.
Four in a row?
Angela Merkel is attempting to win the chancellorship for a fourth consecutive time after leading a grand coalition along with the SDP in 2005, a conservative-FDP coalition in 2009 and a second grand coalition that was formed in 2013.
A poll for public broadcaster ARD found Chancellor Angela Merkel's approval rating hit its highest point since her 2015 decision to open the country's borders to refugees.
According to the monthly Deutschlandtrend survey, published on 9 March, the CDU leader gained five percentage points to reach a 60% approval rating.
While Schulz scored 52%, losing 3 percentage points.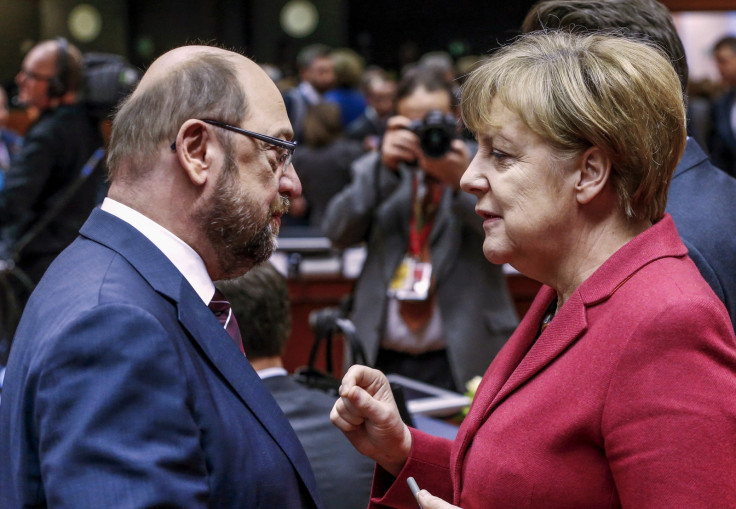 The poll also showed the anti-immigrant Alternative for Germany (AfD) down one percentage point on 9% but still on course to enter the national parliament as the third-biggest party.
It put the far-left Linke on 8% and the environmental Greens were on 7%. The pro-business Free Democrats were on 5%.
The survey of 1,212 people was carried out from March 7 to March 9.
This year's election will take place on 24 September.