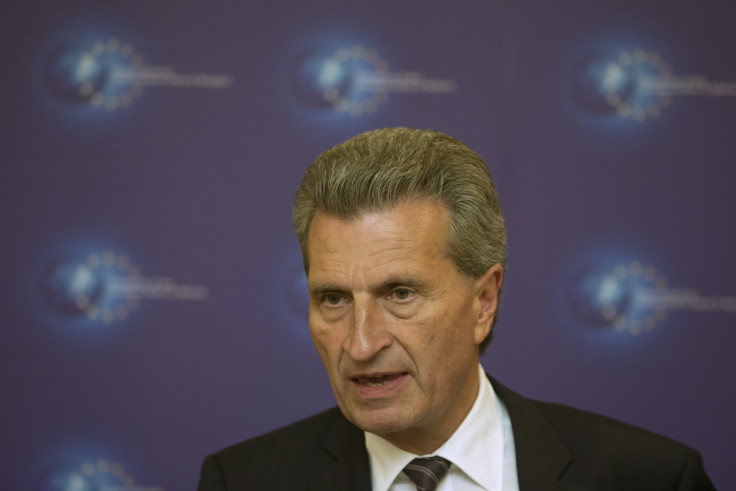 Guenther Oettinger has defended his remarks about the Chinese, made during a speech to businessmen in Hamburg. In video footage, secretly filmed at the event earlier in October (2016), Oettinger used the derogatory term Schlitzaugen - meaning "slit eyes" - to refer to Chinese people.
Anonymous YouTube user Sebas Travelling, who uploaded the clip on Friday (28 October), captured the comments made during a speech that focused on EU relations with China. Oettinger also joked that Chinese ministers had "their hair combed from left to right with shoe polish".
Oettinger told Die Welt that his remarks were taken out of context. "That was a somewhat sloppy expression that was not meant in any way disrespectfully towards China."
He added: "You have to see the broader context in which I made my remarks. In my speech, I wanted to warn Germany of too much self-confidence."
The senior member of Chancellor Angela Merkel's conservative party claimed that he had "received a lot of positive reaction" to the speech.
The German politician then turned his attention to "compulsory gay marriage", saying that it would be soon be introduced.
"Someone who openly spreads racist and homophobic opinions has disqualified themselves for top political positions," Katarina Barley, secretary-general of Germany's centre-left Social Democratic Party, told Spiegel Online.
Green politician Volker Beck went further and branded Oettinger a "lunatic goblin" that is scared of gay people and sought an apology for his comments.
Oettinger is tasked with managing the digital economy policy in the EU's executive body. He will also take over the budget portfolio from economist Kristalina Georgieva, Bulgaria's European commissioner, who is leaving the role to take up a new position at the World Bank.
The German EU commissioner will be responsible for discussions on managing the EU's budget once the UK exits the European Union.
The outspoken politician is no stranger to controversy, having previously criticised former prime minister David Cameron's bid to keep Britain in the EU. "We have to accept the democratic decision and the s*** campaign of Cameron," he said according to the Daily Express.
"I'm sorry, that's life and s*** happens."