German police on Monday, 10 October, said that they have arrested a man suspected of planning a terror attack.
Police from the German state of Saxony tweeted saying, "Tired but overjoyed: we captured the terror suspect last night in Leipzig."
Authorities had been looking for the 22-year-old Syrian refugee Jaber al-Bakr, after he dodged them during an apartment raid in the city of Chemnitz on Saturday.
During the raid the police had found 'highly volatile' explosives. Around 100 people were evacuated from the block and the explosives were moved for a more controlled detonation.
The man had been in Germany since last year and was officially given the status of a refugee, police said on the weekend.
Two people in contact with al-Bakr were also arrested at the Cheminitz railway station while another individual was detained near the flat in Fritz-Heckert neighbourhood.
During the manhunt on the weekend, security arrangements at all German airports and ports were stepped up. Experts have been trying to find out if the substance in the explosives was TATP, a homemade explosive used in Paris and Brussels attack.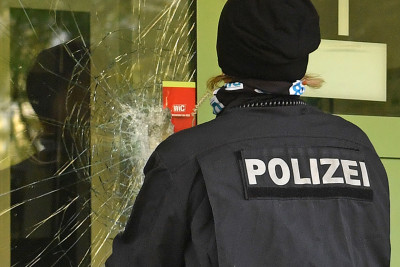 A spokesperson for the Federal Prosecutor's office told broadcaster SWR on Sunday, "The overall picture of the investigation, in particular the amount of the explosive found, suggests that the person was planning to carry out an Islamist-motivated attack." Later on, Saxony police released pictures of the Damascus born al-Bakr, wearing a sweatshirt.
This latest development could come as a fresh blow to the German Chancellor Angela Merkel, whose party Christian Democratic Union (CDU) lost support to the far-right anti immigration party Alternative for Germany (AfD) over her pro-refugee policy.
Last month, Merkel had said that she wished she could "turn back the time by many, many years" to prepare in a better way for the refugee influx.