German town erupts in violence as far-right supporters clash with asylum seekers
Bautzen has become a flashpoint for anti-refugee sentiment.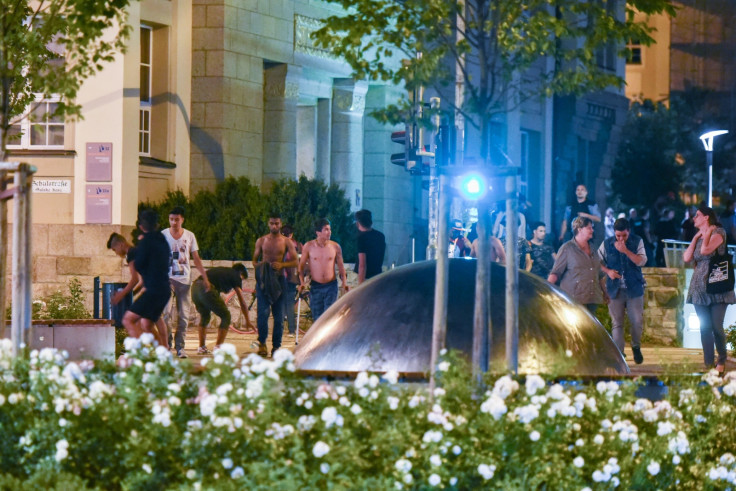 Far-right supporters have violently clashed with asylum seekers in an East German town that has become a flashpoint for anti-refugee sentiment.
About 80 young men and women fought with 20 migrants and refugees in Bautzen, about 40 miles east of Dresden, on Wednesday night (14 September).
The unrest was reportedly triggered by an incident the previous evening when a 32-year-old resident was hurt by a bottle being thrown.
The next day some residents accused a group of asylum seekers of taking over one of the town square's outside the central Kornmarkt shopping centre.
Witnesses reported seeing the two groups exchange verbal insults before physical fights broke out. Some locals said they heard anti-immigrant slogans being chanted, including "Bautzen for the Germans".
About 100 police officers were deployed, with some forming a human chain to separate the two groups. Witnesses said the asylum seekers were then asked to leave by police, prompting them to hurl bottles and wooden slats, the BBC reported.
As they dispersed, they were chased by a group of far-right supporters back to their hostel, where they were kept under police guard.
Uwe Kilz, head of Bautzen's police force, told reporters: "Police were called at around 8.50pm and told that two groups were going at each other... attacking each other verbally and by throwing bottles, wooden slats and other such things."
The police have launched an investigation into whether any of those involved broke laws concerning breach of the peace and grievous bodily harm.
In February, the town made international news when some residents were seen cheering when a building due to house migrants was set on fire.
Bautzen mayor Alexander Ahrens condemned the most recent attacks, writing on Facebook that he was "angry and disgusted" by what had happened.
It comes as Chancellor Angela Merkel faced widespread criticism for an open-door refugee policy that saw about a million irregular migrants and refugees – including those fleeing war-torn countries like Syria and Iraq – arrive into Germany.
Her approval ratings have since slumped with her conservative coalition losing voters to the anti-migrant Alternative for Germany (AfD) party. Some of Merkel's critics say mass immigration could destabilise German society.
Germany's federal police force says there have been 700 attacks on asylum accommodation so far this year, including 57 arson attacks.
The head of Germany's Federal Office for Migration and Refugees (BAMF), Frank-Juergen Weise, said in August he expects a maximum of 300,000 refugees to arrive in Germany in 2016.
© Copyright IBTimes 2023. All rights reserved.