Germany: 15,000 join anti-Islam protest in Dresden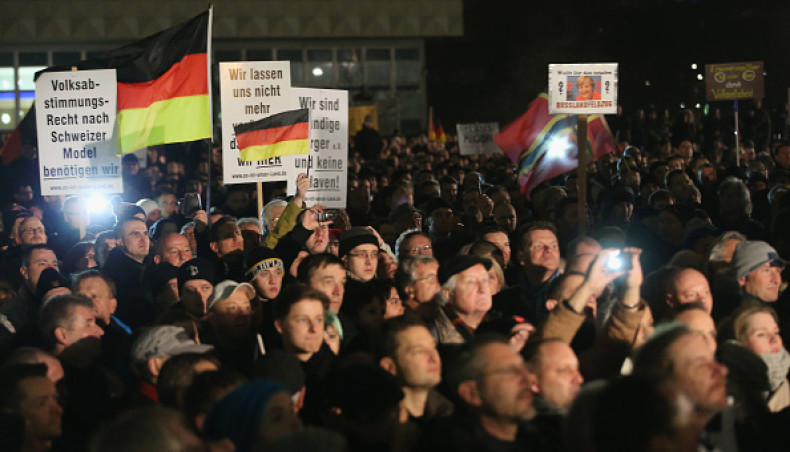 Fifteen thousand people marched in the eastern German city of Dresden on Monday (15 December) in protest against "asylum cheaters" and the rising "Islamisation" of the West.
Marking a 50% rise in attendance since the demonstration last Monday, the founder of the Patriotic Europeans Against the Islamisation of the Occident (PEGIDA), Lutz Bachmann, addressed the protestors saying: "The people are with us! Everywhere now, in every news rag, on every senseless talk show, they are debating, and the most important thing is: the politicians can no longer ignore us!
"We have shown by taking another 'little stroll', and by growing in numbers, that we're on the right path, and that slowly, very slowly, something is beginning to change in this country."
Fuelling the immigration debate, nationalists in eastern Germany are mocking the country's failing immigration and asylum system and attacking the political class, reported Yahoo News.
One of the demonstrators, Michael Stuerzenberger, said that while he is not opposed to the asylum for refugees, "70 percent of people claiming political asylum here are economic refugees. We don't want to stay silent about this anymore.
"We don't want a flood of asylum seekers, we don't want Islamisation. We want to keep our country with our values. Is that so terrible? Does that make us Nazis? Is it a crime to be a patriot?"
The protesters chanted, "we are the people," a phrase heard over a quarter century back by East Germany pro-democracy protesters before the fall of the Berlin Wall.
Meanwhile, the leader of the Central Council of Muslims in Germany, Aiman Mazyek, has said PEGIDA is attempting to divide German through its "we are the people" chant that indirectly provokes a "you, the bad Muslims, and us, the good Germans".
Justice Minister Heiko Maas said the country is going through an, "escalation of agitation against immigrants and refugees", which he called "repugnant and abhorrent", and a trend that "brings shame" on Germany.