Greece's debt crisis has descended into a war of words between Prime Minister Alexis Tsipras and Germany.
After German Finance Minister Wolfgang Schäuble accused Tsipras of lying to his own people and attempting to find outside scapegoats for the country's dire financial predicament, the Greek Prime Minister hit back by saying that "extremist conservative forces" were trying to blackmail the country.
On 30 June, Greece became the first advanced state to default on an International Monetary Fund loan, by failing to repay a €1.6bn (£1.1bn) tranche. having not paid, Greece finds itself without a financial safety net because €240bn of bailout funding has ended with no new arrangement in place.
Tsipras has called a referendum for 5 July to determine whether Greece should accept a cash-for-reform deal that would unlock much-needed €7.2bn worth of funds. Athens, however, has refused to accepted its creditors' terms, which include swingeing cuts to pensions, a rise in VAT and the slashing of public sector jobs.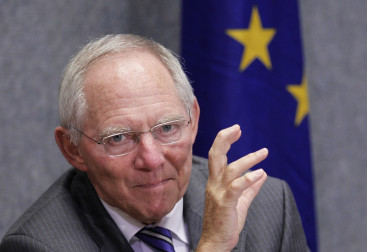 Addressing the German parliament, Schäuble was scathing: "Greece is in a difficult situation, but purely because of the behaviour of the Greek government. Seeking the blame outside Greece might be helpful in Greece, but it has nothing to do with reality.
"The Greek government is not doing its people any favours at all if it keeps making completely false statements. Nobody else is to blame for their situation. We're in a much harder situation than before. It was always difficult. But it has just kept getting more and more difficult since January" when Tsipras was elected.
"This government has done nothing since it came into office. You can't in all honesty expect us to talk with them in a situation like this," he added.
German vice-chancellor Sigmar Gabriel accused the Greek government of allowing the wealthy and the oligarchs to suck the country dry and take "billions" out of the country.
"Who's liable for this money? Workers in Germany, among others," adding that Europe throwing good money after bad at "this corrupt state".