Germany braced for rival anti-Islam Pegida and anti-fascist protests as rallies hit Berlin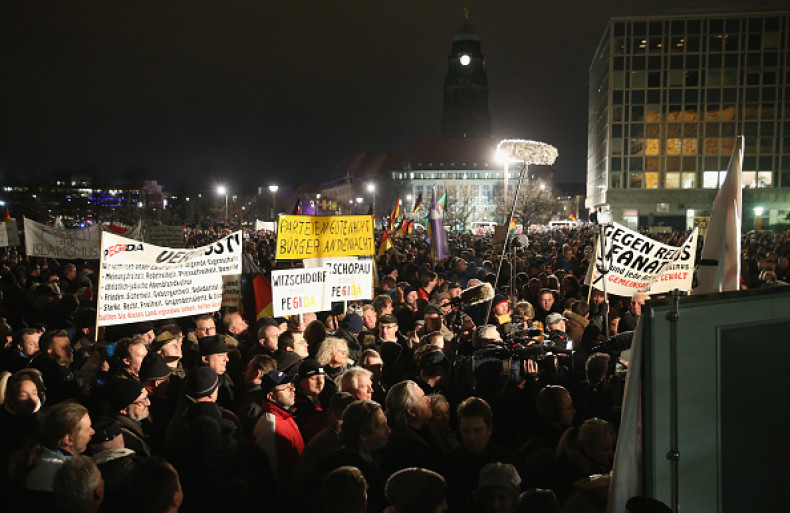 Germany is braced for rival anti-Islam and anti-fascist demonstrations in several cities, including for the first time in its capital, Berlin.
Several hundred supporters of the Patriotic Europeans against the Islamisation of the West (Pegida) movement are to rally in central Berlin in the evening (5 January), with other twin demonstrations expected in Cologne and Dresden.
The anti-Muslim group has organised weekly protests since October, drawing a swelling number of people, mainly in Dresden.
On 22 December some 17,500 Pegida protesters took to the streets in the eastern city, to voice their dissent to what they describe as the pernicious rise in the influence of Islam over European countries, which in turn erodes Western cultural identity.
Anti-fascist activists and the local Turkish community have called for counter-demonstrations in Berlin, with more than 10,000 expected to show up.
Thousands of anti-Pegida protesters are also to rally in Stuttgart, Dresden and Cologne, where the city's famous cathedral will be plunged into darkness in a stand against the controversial group.
A large number of police forces are to be deployed to keep the rival marches apart.
Germany has recently experienced a rise in asylum applications, partly because of the war in Syria.
Meanwhile, reports on home-grown radicals joining jihadist groups in the Middle East has helped fuel far-right anti-immigration sentiments.
Senior politicians, such as the German Chancellor Angela Merkel and her predecessor Gerhard Schroeder, have decried Pegida and urged ordinary citizens not to be drawn in by the rhetoric.
"There's freedom of assembly in Germany, but there's no place for incitement and lies about people who come to us from other countries," Merkel said.