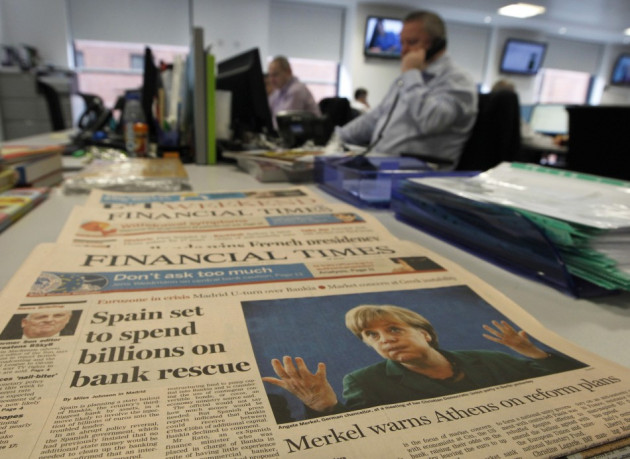 GERMANY
Chancellor Angela Merkel said Wednesday that Eurozone nations must stick to their previous commitments on budget consolidation and fiscal disciple as the newly agreed European Fiscal Pact inched closer to unravelling.
In a joint statement with Slovenia's Prime Minister, Janez Jansa, Merkel said "we must stick to the programmes and the rules that have been agreed.
Media reports suggest German lawmakers will delay voting on the recently-agreed European Fiscal Pact until at least June while Handlesblatt says formal arrangments are being explored by which Greece could potentially exit the single currency.
Germany's exports surged to a March record, the Federal Statistics Office said Wednesday, while the seasonally-adjusted trade surplus was little-changed at €13.7bn. Tuesday's data showed Industrial Production in March rose by 2.8 percent.
Bund yields have dropped through 1.5 percent for the first time ever while bund futures have touched all-time highs for the third consecutive session.
The Debt Management Agency sold €4bn in five-year bobls at the lowest-ever auction rate of 0.53 percent Wednesday.
Germany's benchmark DAX is down around 59 points, or 0.90 percent, on the session and trades at 6,389.2. It's down 2.6 percent this week.
FRANCE
Newly elected President Francois Hollande will meet European Council President Herman Van Rompuy and Eurogroup head Jean-Claude Junker in Paris later this week, ostensibly to discuss details of the EU Fiscal Pact.
Hollande told French voters he would seek to renegotiate the deal and deliver more "growth" policies for the French economy. Media reports say Hollande will conduct a summer "audit" of France's finances before following-through on some of his more aggressive spending promises. France has run a budget deficit for 37 consecutive years.
Frances's trade deficit narrowed sharply in March to €5.7bn from €6.3bn while the French customs office said exports rose a full 1 percent in the first quarter of this year. Collectively, the figures suggest a first quarter trade deficit of around 3.4 percent of GDP and point to flat GDP growth for the same period.
The extra yield, or spread, investors demand to hold French 10-year government bonds instead of Bunds rose 2 basis points to trade at 137.2 basis points Wednesday. A basis point is 0.01 percent.
France's benchmark CAC-40 slid 37.2 points, or 1.2 percent, to trade at 3,087.58. The index is down 2.35 percent so far this week
UNITED KINGDOM
Her Majesty Queen Elizabeth II addressed Parliament Wednesday, setting out the objectives of Prime Minister David Cameron's Conservative-led coalition government, which suffered stinging defeats in local elections up and down the country last week, for the upcoming year.
Retail sales in Britain fell 3.3 percent last month, the most in a year last month after soggy weather kept shoppers at home.
The Bank of England begins its two-day interest rate setting meeting today and will likely decide Thursday whether to extend its current £325 asset purchase programme. Britain is officially into its first "double-dip" recession since 1975.
10-Year Gilt yields fell to 1.899 percent, the lowest level on record, after a solid £2bn sale of 30-year Gilts by the UK's Debt Management Office earlier Wednesday.
Britain's benchmark FTSE 100 index fell 70.5 points, or 1.28 percent, to 5,548.38, erasing all of this year's gains. The index is down 3.66 percent over the last two trading days.
SPAIN
Prime Minister Mariano Rajoy said Wednesday his government was committed to the "Euro Project" and the budget consolidation it requires.
In a joint statement with the Prime Minister of Portugal, Pedro Passos Coelho, Rajoy called upon Europe's leaders in Brussels to accelerate policies that will deliver growth in the region.
He also expressed hope that Greece would remain in the Euro but saw the weekend's elections as "worrying".
Spain's return to recession was confirmed by the Bank of Spain last month while unemployment in Europe's fourth-largest economy touched a three-decade high of 25 percent.
Spain's Economy Ministry is expected to outline details of new capital requirements for the nation's banks Friday. Media reports suggest the sector may have to raise a collective €89bn - €35bn more than first anticipated - in order to properly protect themselves against bad loans in commercial and residential real estate.
Benchmark 10-year bond yields rose past 6 percent for the first time since late April. Credit default swaps on Spain's government bonds rose 15 basis points to 512 basis points. This means an investor would need to pay €512,000 each year for five years to insure €10m in Spanish government debt against default.
Spain's IBEX 35 index fell 259 points, or 3.7 percent, to a three-year low of 6,748.1 Bank shares led the declines with Banco Santander, the nation's biggest lender, slumping 5.8 percent. The index has fallen 1.5 percent so far this week.
GREECE
Syriza leader Alexis Tsipras has held the second round of talks attempting to form a coalition government after Sunday's general election. Syriza, a vocal opponent of the austerity measures tied to Greece's €174bn bailout, has promised to declare the pact "null and void" if he becomes Prime Minster. Media reports say he's getting little support from rivals New Democracy and PASOK and that new elections are likely to be held in June if, under Greek Parlimentary law, no government can be formed by the end of the week.
German's Foreign Minister Guido Westerwelle said Wednesday that Greece will receive no further trances from the bailout fund unless it continues with its promised budgetary and structural reforms.
Greece is now entering its fifth year of recession. Credit Suisse released a report earlier Wednesday suggesting a 15 percent chance Greece will leave the Euro, up from 5 percent in a previous assessment. Societe Generale noted that as of March 15, state-supported institutions (the IMF, the EU and the ECB) have more than €253bn in exposure to Greece's public finances. That's almost double the €139bn currently held by private investors.
Greece's 10-year government bond yields rose 73 basis points Wednesday to trade at 23.26 percent.
Greece's benchmark stock index, the ASE, fell 3.3 points, or 0.54 percent, to trade at 617.2, near the lowest levels in at least 20 years.
ITALY
Italy's top central banker, BoI Director General Gabrizio Saccomanni, urged the European Central Bank to do more to contain the spreading crisis in the Eurozone, suggesting it should pursue both monetary and financial stability. His comments were quickly rebuffed by a formal statement from Germany's Bundesbank.
The BoI said Tuesday that Italian lenders borrowed €271bn in short-term funds from the European Central Bank in April, up €1bn from March.
EU Economic Affairs Commissioner Olli Rehn said late Tuesday that failure to reform Italy's labour markets, currently being debated in Italy's Parliament, could damage the country's credibility for reform.
The extra yield, or spread, investors demand to hold Italian 10-year government bonds instead of Bunds rose 17 basis points to trade at 425 basis points Wednesday
Credit default swaps on Italy's government bonds rose 13 basis points to 444 basis points. This means an investor would need to pay €444,000 each year for five years to insure €10m in Italian government debt against default.
Italy's benchmark stock index, the FTSE MIB, fell 279 points, or 2 percent, to 13,657. It has fallen 1.7 percent so far this week.