Syrian refugees saved the life of a German neo-Nazi leader, pulling him from the wreckage of a car crash, officials told German media.
Stefan Jagsch, 29, a regional leader of the extreme right German NPD party, swerved from the road near the town of Buedingen in Hesse in the morning on March 16, and crashed into a tree, police officials told Spiegel online.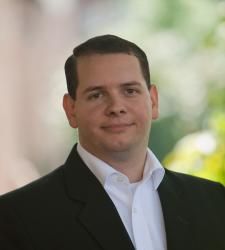 Passing the scene of the accident was a coach full of refugees, and two Syrian men came to the aid of injured Jagsch, pulling him from the wreckage of his vehicle and administered first aid, before emergency services arrived at the scene, reported Bild.
Jagsch's legs were broken and his face cut in the crash, according to the tabloid. It is not known what caused the accident.
Jagsch was until 2015 the leader of the NPD in Hesse, which has polled strongly in the state in the wake of the refugee crisis and has an strongly anti-immigrant platform. He was the party's candidate in the town of Altenstadt, where it won 10% of the vote in recent local elections.
In 2015 more than one million refugees and migrants entered Germany, with support for far right parties increasing in recent municipal elections.