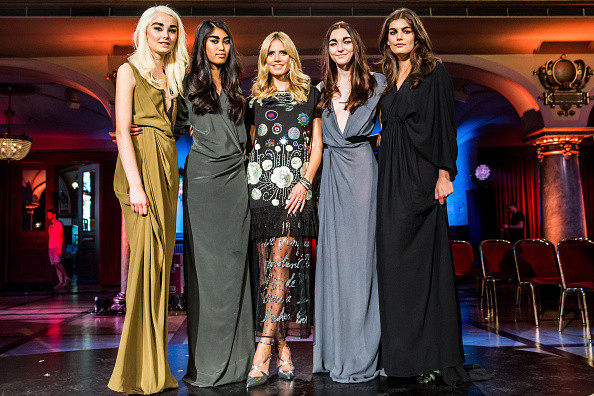 Audience members were reportedly left fuming when Germany's Next Topmodel judges, including Heidi Klum, were evacuated before the rest of the building in the midst of a bomb threat.
German publication Spiegel Online reports that supermodel Klum and her fellow judges Thomas Hayo and Wolfgang Joop, were escorted out of Mannheim's SAP Arena 20 minutes earlier than the audience, allegedly upsetting those left waiting in the venue.
A stagehand reportedly claimed that the judges were removed first as the bomb threats were allegedly aimed directly at the panel.
According to the publication, reports that a man with a "weird haircut" stormed up to Klum and threatened her with a bomb are false.
German newspaper Bild claims that Klum's daughter Leni, whom she shares with ex-husband Seal, was in the venue at the time and was taken to an undisclosed venue with her mother and the other judges.
Police officers are said to have found a suspicious suitcase bag but it was deemed to be harmless after a search by sniffer dogs, NBC News reports.
The incident, which is said to have taken place 45 minutes into the live episode, forced 8,500 to be removed from the arena with the broadcast subsequently cancelled by the ProSieben network.
After the chaos had settled, Klum, 41, gave her fans an update via Facebook, writing: "Unfortunately we couldn't celebrate our big finale the way we had planned."
She also tweeted: "Lovely GNT fans, the evening didn't end as I had wished! Safety first!"
The live final has now been rescheduled to air on 28 May but it will not be live.