David Beckham's move from Real Madrid to LA Galaxy in 2007, while still somewhere near the peak of his powers, gave Major League Soccer an exponential reputational boost. A few years later Robbie Keane joined him in Los Angeles in a move from Tottenham Hotspur while still playing and scoring regularly for the Republic of Ireland.
But Beckham is long retired and now Keane is leaving MLS, along with the last raft of former Premier League names – Steven Gerrard, Frank Lampard and Didier Drogba. With the 2016 MLS Cup final being played on Saturday [10 December], have these big names changed soccer in the USA? The MLS Cup will be contested by two teams whose best known players are homegrown – Clint Dempsey and Michael Bradley – and the former won't even be playing due to problems with an irregular heartbeat.
Unlike Beckham and Keane, the Gerrard and Lampard MLS moves were very much of the last-gig-before-retirement variety. Former Chelsea and England left-back Ashley Cole, who once voiced this view with the words: "I didn't want to sit on the beach just yet" is now, at the age of 35, a Los Angeles Galaxy player.
Former players from the Premier League sell shirts and raise international awareness of MLS. But their influence is fleeting. Such was the imbalance of reputation versus tangible impact that the fortunes of Drogba's Montreal Impact team surged after the 38-year-old was dropped late in the season. Soccer is more popular in the US than many other countries assume. Most children under 11 play the game and, given the huge number of young girls that play, it is hardly surprising that the USA's women's national team (locally-styled USWNT) are consistently one of the best in the world.
Like other countries, huge numbers of under-11s wear football jerseys as casual wear, but they are more likely to be adorned with a Lionel Messi or Zlatan Ibrahimovic shirt than one from an MLS team. But from the age of 11 the playing base declines sharply as mainstream of American sports takeover. In the TV stakes, MLS currently has a $75m per year rights deal, while the NFL's domestic broadcast deal is worth around $5bn annually and the NBA's $3bn. The NHL is the smallest of the big four, earning just $200m per year from broadcaster NBC, but this is bolstered by a further $400m from Canadian TV.
In order to join the Big Four, MLS apes its American rivals rather than adopt the formats of other football leagues around the world. MLS' championship is claimed via an end-of-season playoff system which makes the very long regular season almost worthless. More significantly for the sport's development in the US, MLS is a closed league, with no promotion and relegation. The second tier of US soccer, the NASL, is almost bankrupt. The third tier, the USL, is basically a player development league.
But MLS's growth is dependent upon new owners wanting to buy teams – and guaranteeing them future income, which could not be promised should franchises be in danger of relegation. Each new franchise – Los Angeles FC and Minnesota United are scheduled to join over the next two years – is sold for $100 million. Beckham's MLS deal meant he could buy a franchise on the cheap at $25m, but his plans for a team in Miami look as distant as they ever have.
But MLS's closed shop means rejecting a wider fan base. MLS fans tend to be rabid about their local team but ambivalent about other teams beyond their immediate rivals. Less than one million viewers have watched five of the last six MLS Cup Finals on TV. This year's MLS Cup final is contested between Toronto FC and Seattle Sounders, arguably the league's biggest club with an average attendance of more than 40,000 and a fervent and colourful fan base. But only a fraction will be at the game, being played 2,000 miles away in a stadium which holds 36,000.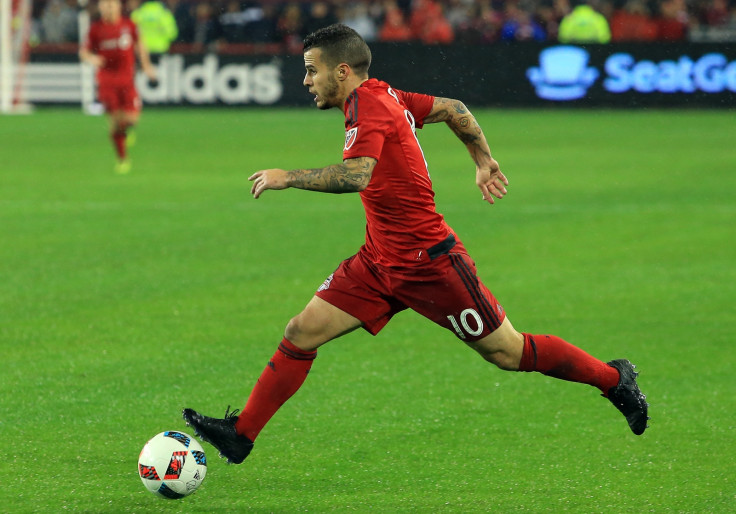 Lampard, Gerrard and Drogba moved to MLS in their twilight seasons. Lampard signed to give New York City a promotional boost, yet none of them exponentially improved their teams. On the flip side, Bradley Wright-Phillips flourished when he moved to the US at the age of 28 and became the first player to score more than 20 goals in more than one season. Other signings within the league have had more of an eye to the future. Atlanta United recently signed 23-year-old Paraguayan playmaker Miguel Almiron, who was an Arsenal target over the summer.
Alongside Bradley at Toronto is playmaker Sebastian Giovinco, an Italian international who moved from Juventus to MLS last year while still at the height of his career. He is seen as the exception to the rule that high-profile players need to be beyond their peak years to be receptive to a move to America. Thus we will probably know if and when the MLS really makes the big leagues: the days when the world's best players choose to play there in their 20s rather than their 30s. Until then, we wait.