Two new Samsung handsets bearing model numbers: SM-G5308W and SM-G8508S have been spotted in a GFXBench test involving 3D Graphics Performance Benchmark for mid-range and high-end smartphones, according to a recent report by Webtrek (Google Translated).
SM-G5038W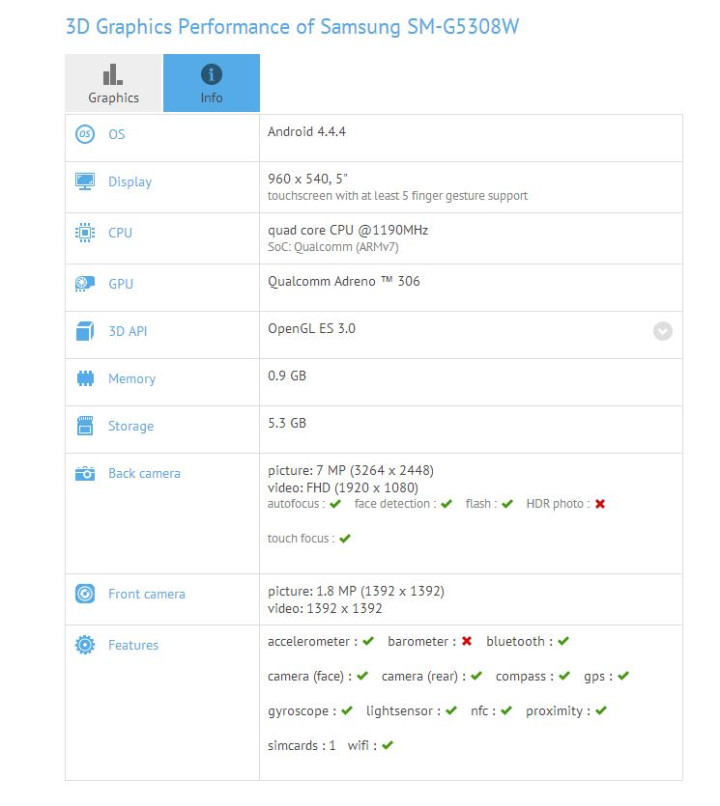 The first phone with model number SM-G5308W could be categorised as a mid-range phone, given its specifications including 1.2 GHz Qualcomm Snapdragon 410 processor running on a 64-bit chip, 1 GB RAM, 8GB of storage, 7 megapixel rear camera, 1.8MP front camera, NFC connectivity and support for Android 4.4.4 KitKat.
The SM-G5038W has an estimated selling price of €299 to €349.
SM-G8508S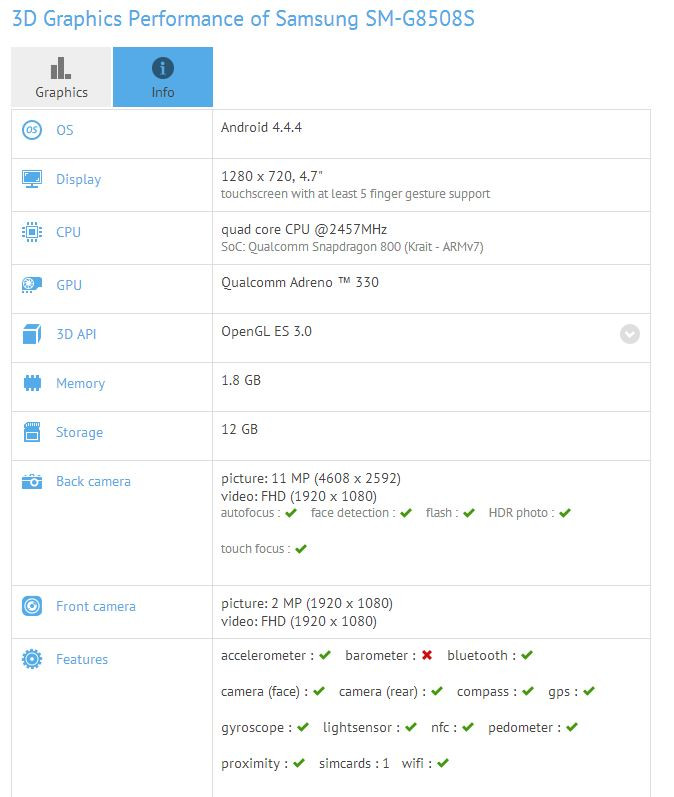 Furthermore, the GFXBench results reveal a second phone with model number SM-G8508S whose hardware specifications are on par with a flagship device. Its key specifications include a 4.7in 720p display, 2GB of RAM, Qualcomm's Snapdragon 800 CPU, Adreno 330 GPU, NFC capability and run Android 4.4.4 KitKat out of the box.
On the camera front, the SM-G8598S ships with 11 megapixel rear camera and a 2MP front camera with support for full HD recording.
At 4.7in, the screen size of the phone seems to be smaller than regular flagship phones, while a similar handset bearing model number SM-G705A was spotted online, earlier this year.
Given their model number sequence, the two handsets seem to be exclusively made for Chinese and South Korean markets. However, there may be other variants, including the international versions with similar configuration in Samsung's future roadmap.
As the details are sparse at the moment, the rumour should be taken with a pinch of salt. However, the report suggests we may find new details about these handsets by the end of Summer 2014.