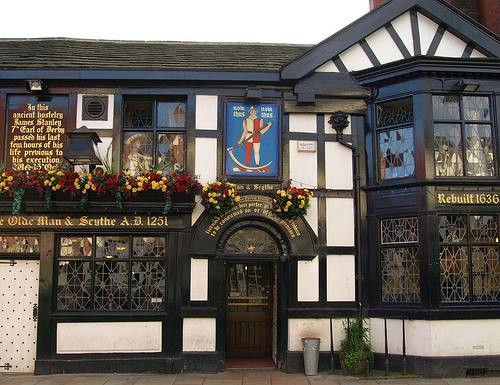 Bolton pub Ye Olde Man & Scythe is being haunted by the Seventh Earl of Derby, James Stanley, according to staff and locals.
The chair he sat in before he was taken outside and beheaded in 1651 is still in the pub today - and as per the latest CCTV footage of the pub - so is he.
According to a report in Mirror, staff of the pub - reputedly the fourth oldest in Britain - checked the cameras on the morning of 14 February and discovered that it had mysteriously stopped recording at 6.18am.
The recorded footage (below) revealed a shadowy figure flickering into view by the bar.
"I came down and saw a glass smashed on the floor so I was instantly suspicious and went to check the CCTV and found it has stopped working," manager Tony Dooley told the Manchester Evening News.
"We checked the footage and it revealed this figure. To be honest I was a bit concerned - I'm a bit of a sceptic when it comes to ghosts but you become more of a believer when you see things like that," he said.
James Stanley's family originally owned the inn, which dates back to 1251. Reportedly, Hundreds of soldiers and civilians were also killed outside the pub in the Bolton Massacre of 1644. A psychic evening held at the pub in 2006 revealed that the place is haunted by at least 25 spirits.
"There have always been rumours it is haunted and we've had psychic readings done here in the past," said Dooley.
"Occasionally you hear things and wonder if it's just the building settling down or whether it's something else."
"It's the fourth-oldest pub in Great Britain so it's had its fair share of deaths and whatnot," he added.
With such a bloody history and ghostly rumours around the pub, it's considered a hotspot for paranormal activity.