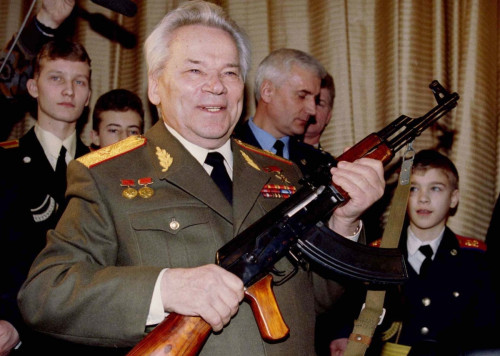 The inventor of the Kalashnikov assault rifle, Mikhail Kalashnikov, told the head of the Russian Orthodox Church shortly before his death of the guilt and pain he felt at all the lives ended by AK-47 assault rifles.
Kalashnikov revealed his moral struggle in a letter to Russian Orthodox Church Patriarch Kirill in April 2013, it has emerged.
"My inner pain is unbearable. I have been facing one and the same unsolvable question: as my rifle took away people's lives, then am I, Mikhail Kalashnikov, 93, a son of a peasant woman, a Christian and an Orthodox, am guilty of the deaths of those people, even if they were enemies?" the letter published by Izvestia newspaper read.
A spokesman for Kirill confirmed that the letter was genuine and said the church leader replied telling Kalashnikov he was an "example of patriotism".
"The Church has a very clear position: when weapons serve to protect the Fatherland, the Church supports both its creators and the soldiers who use it," Alexander Volkov said.
"He designed this rifle to defend his country, not so that terrorists could use it in Saudi Arabia."
Kalashnikov died aged 94 in the city of Izhevsk, 600 miles east of Moscow, in December.
Publicly, he always refused to accept blame for the hundreds of thousands of people killed by his invention.
The Siberian native repeatedly said he designed the rifle to defend Russia from its enemies and was not responsible for the policies of other countries that acquired it.
Born in 1919 Kalashnikov designed his first machinegun for the Soviet Union's Red Army in 1942.
The first model of AK-47 was completed five years later and adopted by the Soviet Army shortly afterwards.
Cheap to produce and easy to use, assemble and replicate, the AK-47 became one of the world's most widely used weapons and the hallmark of militant guerrilla groups.
It has been estimated that some 100m AK-47 have been produced.
Kalashnikov received many honours for his work but made little money out of it.