Giant Donald Trump dog to welcome Chinese New Year
In 2016, Trump was immortalised as a giant rooster.
A shopping mall in China is turning heads yet again after they unveiled their statue to mark the Chinese year of the dog.
The shopping centre in Taiyuan, southwest of Beijing, has erected a giant statue of Donald Trump as as a dog.
Complete with golden Trump-like hair and the president's signature hand gestures, the statue was launched over the festive period.
The statue heralds the forthcoming year of the dog in 2018, which occurs every 12 years. Donald Trump himself, 71, was also born in the year of the dog.
However, the commander-in-chief is apparently not a fan of dogs, and is the first president without a dog in the White House since 1901.
Last year, the shopping centre featured a giant rooster, also modelled on Trump, for the year of the rooster.
Donald Trump's political relationship with China has taken numerous twists and turns over the past 18 months.
While on the campaign trail in 2016, Trump told supporters that the Chinese were "raping" the US, which formed a wider argument he often made about trade. He accused China of taking advantage of the US and vowed to end it once he became president.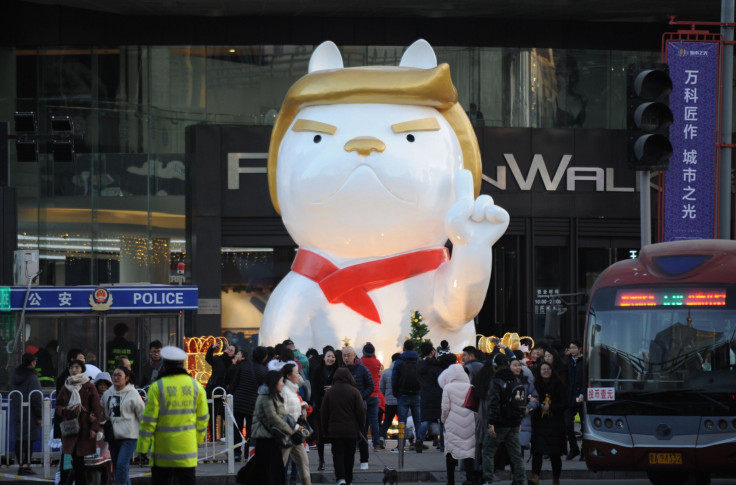 Only a couple of months into his presidency, Trump hosted the Chinese president Xi Jinping at his Florida-based Mar-a-Lago golf resort. He appeared to warm to President Xi and boasted of a good relationship between the two.
But his stance soured when he decried China's inaction following a series of missile tests by North Korea, who rely on Beijing to keep their economy afloat.
Trump visited China in November and blamed previous presidents for the state of play when it came to the trade imbalance, rather than the Chinese.
"After all, who can blame a country for being able to take advantage of another country for benefit of their citizens? I give China great credit."