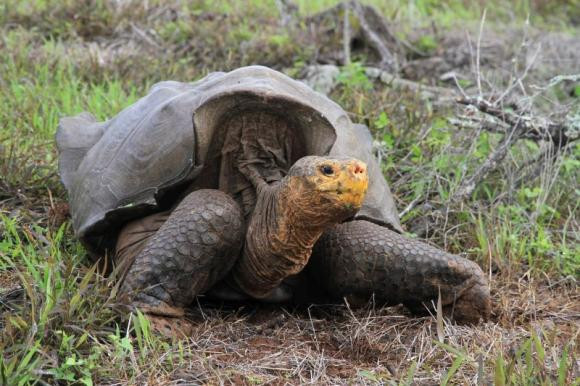 In a brilliant success story of conservation, giant tortoises of the Galapagos island believed to be on the brink of extinction have made a recovery.
Conservationists who have been working to turn around the numbers of the Espanola subspecies report that there are around 1000 of the species now on the island, up from 15 five decades ago.
However, another subspecies found on the island of Pinta has died out with the last of its kind nicknamed Lonesome George dying in captivity in 2012.
About 1,000 km west of Ecuador, the Galapagos archipelago in the Pacific is home to many unique creatures that inspired Darwin in framing his theory of evolution by natural selection during his 1835 visit.
The Espanola subspecies of the tortoise goes by the scientific name of Chelonoidis hoodensis and measures three feet (one metre) long with a saddle-backed shell, reports Reuters.
Living up to 150 or 200 years, feeding on grasses and leaves and cactus there were about 10,000 tortoises before the arrival of man on the island. Hunted out by the 19th century, by 1960 there were only 14 of the sub species left on Espanola.
Along with a third male found in the San Diego Zoo, the population was rebuilt through a breeding programme in captivity before being reintroduced to the island, said James Gibbs, a vertebrate conservation biology professor at the State University of New York (SUNY) College of Environmental Science and Forestry who led the study.
Invasion of the island by goats had led to the destruction of the natural habitat favouring the tortoises. Introduced by fishermen to serve as meat on return voyages, the goats turned the island into a dust bowl.
Even after the removal of the goats, most parts of the island remain wooded against the grassy place it once was, leaving the fate of the tortoises uncertain.
The tortoises are in fact "ecosystem engineers," helping to make life possible for a wide variety of other animals in the arid landscape, Gibbs told Newsweek. They eat the fruits and pads of cacti, and disseminate the plant seeds through their droppings, thus spreading the succulent plant throughout the island.
Cacti, in turn, are a "keystone species" that provide food for songbirds, like finches and mockingbirds, and reptiles, like lava lizards, Gibbs adds, hoping that the tortoises will shift the ecosystem back to its original pre-goat state, something that can take centuries.
Besides the tortoise conservation programme, the island has taken up various initiatives to protect its unique marine and terrestrial ecosystem.