An alleged cannibal police officer has demanded the names of the suspected human flesh eaters he colluded with before his arrest.
Gilberto Valle, 28, is accused of plotting to kidnap up to 100 women, then cook and eat them.
Valle was a serving New York Police Department officer when he was arrested by the FBI. It was alleged that he scoured the national criminal database to contact like-minded people to discuss cannibalism.
Communications allegedly by Valle were shared with 20 people on internet message forums, discussing rape, torture and murder, as well as detailed descriptions of how to cook and eat the victims.
Lawyers at his trial have demanded a list of the people he allegedly communicated with. Three names identified from web chats in court papers are "Michael Vanhise", "Moody Blues" and "Ali Khan".
In one alleged dialogue between Valle and fellow conspirators the defendant wrote: " [Victim 1] is asleep right now, not having the slightest clue of what we have planned. Her days are numbered ... she does look tasty, doesn't she?"
One user responded: "You do know if we don't waste any of her there is nearly 7lb of food there."
In other exchanges, Valle spoke of his wish to cook a victim "into some kind of apparatus ... cook her over a low heat, keep her alive as long as possible." Prosecutors also allege he offered to kidnap a woman for a fee, but that the deal fell apart when the co-conspirator haggled him down to $4,000.
Defence counsel Julia Gatto wrote: "Three weeks before trial, the defence needs to firmly know the identity of Mr Valle's alleged co-conspirators so that it can conduct its pre-trial investigation.
"Effective trial preparation could uncover facts critical to Mr Valle's defence in that the individuals with whom Mr Valle was chatting likely will corroborate that they were engaging in fantasy role play with no intention of acting on their fantasies."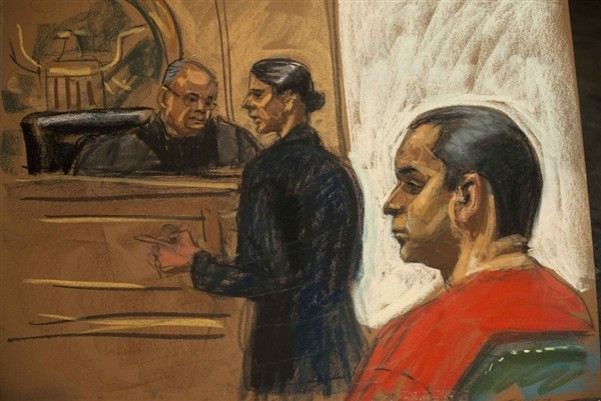 Valle, of Queens in New York, was reported by his girlfriend after she discovered plans, including one to cook and eat her.
Valle denies charges the charges. He could face life imprisonment if convicted.