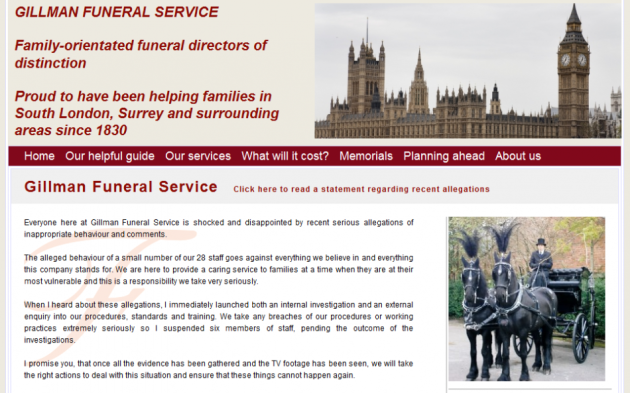 Callous staff at a funeral firm chanted 'Chelsea scum' at a corpse before sealing the coffin.
Clothes sent by grieving relatives for dressing a body were stuffed into a coffin by an embalmer, in another incident.
Bodies were also filmed stacked up in a mouldy warehouse with inadequate refrigeration.
The shock dossier discovered shocking mistreatment of the dead uncovered at Gillman Funeral Service.
Under-cover investigators filmed the abuse of the dead by some for the firm's 28 staff.
They also captured an embalmer on camera singing hit song 'The Stripper' while undressing a corpse.
The scenes are due to be broadcast this week on English TV by ITV1.
Shocking scenes of the dead being abused contrast sharply with the firm's advertising.
On its website, Gillman Funeral Service states it operates with 'respect, integrity and always to the highest professional standards.'
The firm seeks to reassure grieving loved ones that a quality service is provided for the deceased person.
The image of the Palace of Westminster also bizarrely features on the 184 year-old firm's website
'Funeral Directors play an important role in helping families to make all the necessary arrangements and to arrange a dignified funeral service in accordance with the family's wishes,' reads the blurb.
Gillman Funeral Service has six branches serving the south London, Surrey and also surrounding areas.
Chief executive Philip Greenfield said he was 'shocked and disappointed' by the revelations.
'The alleged behaviour of a small number of our 28 staff goes against everything we believe in and everything this company stands for,' he said
'We are here to provide a caring service to families at a time when they are at their most vulnerable and this is a responsibility we take very seriously.
'We are investigating what has happened and in the meantime I offer my sincere apology for any distress to families caused by these totally unacceptable incidents.
'We truly value diversity and we do not tolerate racist language or behaviour anywhere in our business. There are no exceptions.'
'I promise you, that once all the evidence has been gathered and the TV footage has been seen, we will take the right actions to deal with this situation and ensure that these things cannot happen again.'
'The British Way of Death' airs on Wednesday, ITV1.