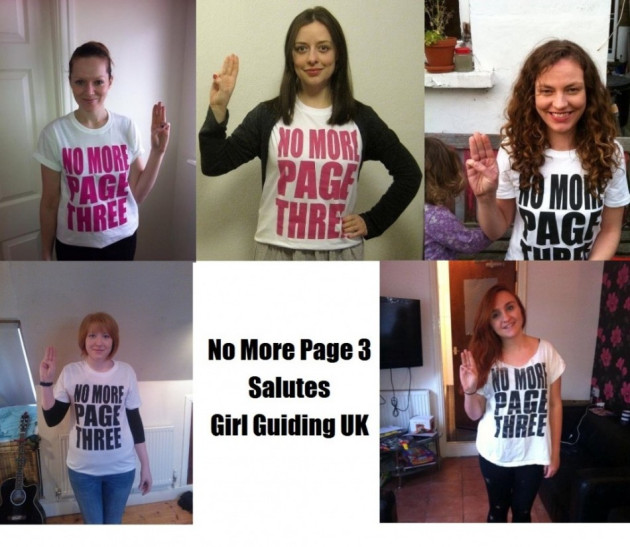 Girl Guides across the country have lent their support to a campaign to end The Sun's page 3.
Guides said they have voted overwhelmingly in support of the campaign, with 88 percent of them saying they believe Britain's most widely-read newspaper should stop printing pictures of topless women.
The petition, No More Page 3, was launched by Lucy Holmes in August and has since gone on to attract 91,000 signatures.
It started after Holmes noticed the largest image of a female in a copy of The Sun was a topless model, despite Jessica Ennis just winning gold for the heptathlon in the Olympics.
In her petition, addressed to Dominic Mohan, editor, Homes said: "George Alagiah doesn't say, 'And now let's look at Courtney, 21, from Warrington's bare breasts,' in the middle of the 6 O' Clock News, does he, Dominic?
"Philip and Holly don't flash up pictures of Danni, 19, from Plymouth, in just her pants and a necklace, on This Morning, do they, Dominic?
"No, they don't. There would be an outcry.
"And you shouldn't show the naked breasts of young women in your widely read 'family' newspaper either.
"Consider this a long overdue outcry. Dominic, stop showing topless pictures of young women in Britain's most widely read newspaper; stop conditioning your readers to view women as sex objects."
Disrespectful and embarrassing
In their letter to the newspaper's editor, the Girl Guides said: "We know that The Sun is a family newspaper. Anyone can pick it up, turn to page 3, and think that it is normal for young women to be treated as objects. We feel this is just wrong and has to stop.
"As a young woman in UK society, it is impossible to nurture your ambitions if you are constantly told that you are not the same as your male equivalent. This is what Page 3 does. It is disrespectful and embarrassing.
"We would like The Sun, as a leading UK newspaper, to promote positive role models to inspire girls and young women and help everyone to understand that women are never for sale.
"We hope that the voice of guiding members, combined with the rest of the signatories on the No More Page 3 petition, will convince you to finally take bare boobs out of The Sun."
The No More Page 3 campaign said it was "absolutely thrilled" that the Girl Guides had offered their support.
"We have heard too many stories of how Page 3 negatively impacts young women and girls, either because of boys' reactions to it or girls' own feelings about their bodies and self-worth caused by being presented with such narrow definitions of beauty on a daily basis.
"As we have at least one former guiding member within the team, we know firsthand what a powerful and positive influence guiding can have on individual girls."
Mohan has not commented on the campaign, but News International owner Rupert Murdoch hinted earlier this year that the page may be coming to an end.
Responding to a tweet that said page 3 was outdated, Murdoch said: "You may be right, don't know but considering. Perhaps halfway house with glamorous fashionistas."