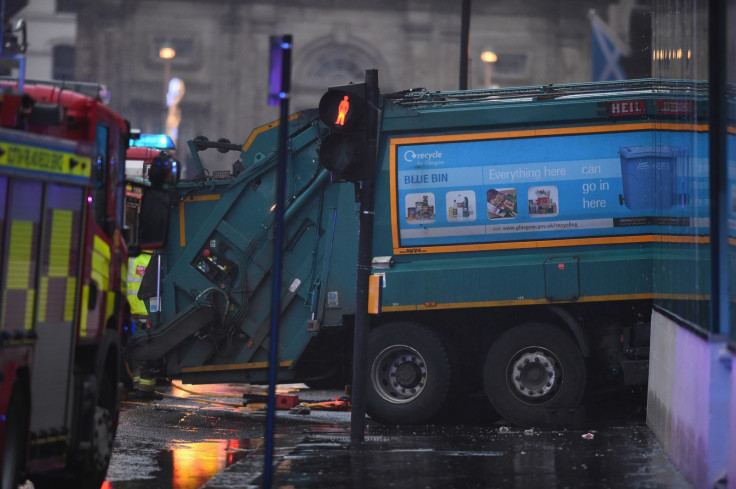 The six pedestrians killed in the Glasgow bin lorry crash had as little as five seconds to avoid their fate, an inquiry has heard.
Crash expert Mark Hill told Glasgow Sheriff Court the victims were killed within 19 seconds after vehicle accelerated to 25mph. Driver Henry Clarke was slumped at the wheel after falling unconscious.
Two fellow binmen Matthew Telford and Henry Toal, who were seated in the back of the vehicle, would also have been unable to react well enough to divert the unfolding disaster as the impact of hitting road signs, buildings and people would have confounded "clear thought", Hill added.
Both men had already said they did not drive or know how to control the vehicle, so no attempt was made to use the handbrake. If they had attempted it, the impact of the stop could have put their own lives at risk or caused further loss of life and damage to buildings.
Hill concluded the men had "insufficient time" to react to the change in route of the bin lorry before it mounted the pavement in Queen Street and in George Square – killing Erin McQuade, 18, and her grandparents Jack Sweeney, 68, and his 69-year-old wife Lorraine, and later Stephenie Tait, 29, Gillian Ewing, 52, and Jacqueline Morton, 51, as it crashed into the side of the Millennium Hotel.
Some 15 others were also injured. A minute's silence was held in the victims' honour before the inquiry began earlier in July, which will also examine the medical condition of the driver.
The Crown Office has already concluded there will be no criminal prosecution over the crash after it was deemed a "tragic accident".