Glastonbury Festival will no longer sell Native American headdresses at the event following an appeal.
An online petition was set up calling for the world famous festival to stop selling the headdresses as a fashion accessory over complaints they are an "offensive and disrespectful" form of cultural appropriation that perpetuates "damaging and archaic" racist stereotypes.
The Change.org petition, set up by Daniel Round from Stourbridge, attracted just 65 signatures but appears to have done enough to sway the festival organisers.
Writing on the petition's page, Round said he has spoken privately with someone from the festival who informed him Native American headdresses will no longer be sold at Glastonbury stalls.
He said: "Although it is only one UK festival, I hope that if we spread the news of Glastonbury's decision online, positive discussions about the stereotyping of Native Americans and the headdress will grow in the UK and elsewhere."
On the festival's trader information page, Native American headdresses have been added to the list of products and services which cannot be sold at Glastonbury without authorisation, along with alcohol, cigarettes, candle flares, mobile phone changing, flags, and gazebos.
However, a spokesperson for the festival told IBTimes UK that the story has been "blown out of proportion" and the removal of Native American headdresses is merely down to compliance with the festival's trading standards.
"The wording on our guidelines is very clear," he said. "There are a broad range issues to consider for anyone who applies to be a market trader, such as safety, before we decide if the product is appropriate to sell.
"We have guidelines about what we consider ethical and it is important to show there is an ideology behind our decisions and that it is not just a first come first serve basis.
"These ethical guidelines are something we place throughout the whole festival and feel we must also plant the seed of ideology in something as mundane as markets."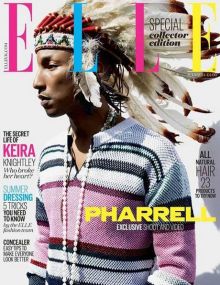 He added it is "not a good idea" to be seen selling products which some people may take offence to while also promoting the festivals' charity work on the main stage.
Canadian music festival Bass Coast also banned the wearing of feather headdresses during the event out of respect for "the dignity of aboriginal people".
Bass Coast event organisers added: "We understand why people are attracted to war bonnets, they have a magnificent aesthetic. But their spiritual, cultural, and aesthetic significance cannot be separated."
Pharrell Williams has also apologised in the past for wearing the headdresses on the front cover of British Elle.
The Indian Country Media Network said they were "appalled" by the photo and dismissed Williams' defence that he has Native American ancestry.