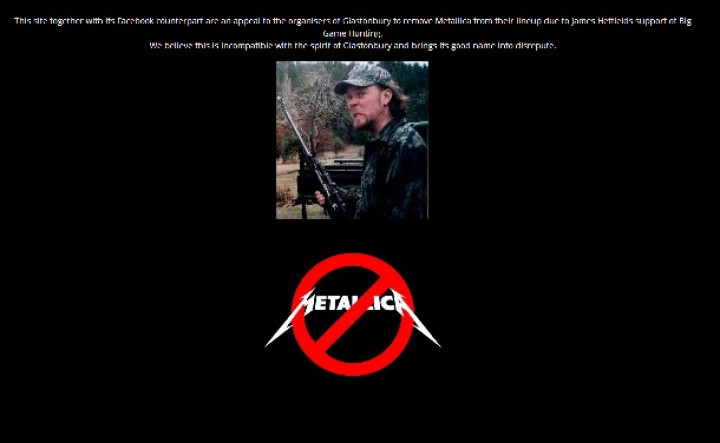 Wrinkly rawk gods Metallica are under pressure after a campaign to boot the veteran group off the bill of this summer's Glastonbury Festival.
Thousands of furious music fans are calling for the riffing four-piece to be dropped because lead singer James Hetfield is narrating a TV show all about shooting wild bears in the USA.
That is "incompatible with the spirit of Glastonbury" according to more than 10,000 people who have joined a social media campaign calling for the band's removal by organisers.
Hetfield is unapologetic in his support for firearms, having defended their use on the grounds of self-defence in the United States.
On Facebook, the motive for the 'Metallica Out' campaign was explained: " Metallica's lead singer James Hetfield is a big game hunter and promoter. This is incompatible with Glastonbury Festival ideals.
"Remove Metallica from Glastonbury Festival for their support of Bear Hunting. We believe this is incompatible with the spirit of Glastonbury and brings its good name into disrepute.
"This page [is] an appeal to the organisers of Glastonbury to remove Metallica from their lineup due to James Hetfield's support of Big Game Hunting."
Showing on a American cable channel, the show has been promoted as a battle of man versus nature's biggest predators.
A press release claimed: "A select group of hunters head into the wilderness for the ultimate test against the elements and the largest land predator on Earth–the Kodiak brown bear.
"Narrated by James Hetfield, the voice of Metallica, The Hunt is an eight-episode series that documents one of the most dangerous pursuits known to man."
The inclusion of Metallica at the top of the bill at Glastonbury has already stirred debate, with some questions raised about whether the band's hard rock sound will be a good match for the event.