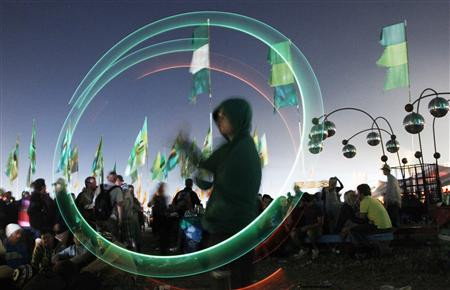 The Glastonbury Festival is famed throughout the world for being the muddiest and wettest of the festival circuit and 2011 is set to be no different. The weather has caused much disruption to festivals in the past but event organisers have confirmed that a new drainage system is in operation and the three day music festival is ready for anything. A Glastonbury Festival spokesperson said: This year, after a record dry spring the weather has changed back to "normal" - if that can be said of British summers any longer. Either way, Glastonbury, with its huge drains, is ready for anything.
The worst weather in recent times came back in 2005 when six feet of water flooded hundreds of tents, leaving a huge puddle by both the Pyramid and Other Stages, delaying the festival on Friday morning.
However, the weather can't dampen the spirits of most Glastonbury Festival goers. This year, rain is expected at the Worthy Farm site but only anticipated in two short bursts. Light showers are expected to hit the festival on Thursday as well as a heavier burst of rain on Friday evening. It is expected that U2's headline set on Friday will be hit by the rain.
The weather forecast for the festival looks rather grey but the rains should hold up for most of the music days. It is expected to be cloudy, with a rough temperature of around 15 degrees for the weekend but highs on Sunday of around 21 degrees should delight fans who will be turning out to see Plan B, Pendulum and Beyonce.
177,000 people are expected at the festival this year with most arriving on Wednesday. It was estimated that 100,000 people arrived at the Pilton site on Wednesday last year, a trend that the organisers expect to continue this year. Most visitors should expect to arrive in damp conditions as rain is expected at the site all this week with the festival confirming that severe showers hit the site last weekend.
BBC Somerset will broadcast live travel information all day from Wednesday and there will be news bulletins covering all traffic issues en route to Glastonbury Festival. There will be two moving traffic reporters on motor cycles on Wednesday which is set to be the busiest day.
U2 will headline the Pyrmaid Stage on Friday with Coldplay headlining the stage on Saturday with Beyoncé rounding the three day music event off on Sunday.