Global deal reached to limit use of powerful greenhouse gases
John Kerry declares Kigali greenhouse gas deal is "biggest thing we can do in one giant swoop".
Nearly 200 countries have signed an agreement to limit the use of a type of greenhouse gas far more harmful than carbon dioxide. The deal to curb hydrofluorocarbons (HFCs) was announced on Saturday (15 October) and includes the United States and China — the world's two biggest economies as signatories.
HFCs are commonly used in refrigerators and air conditioners and limiting their use has been hailed as a pivotal step in tackling climate change. They are considered to be 10,000 times more harmful than carbon dioxide.
"It is likely the single most important step we could take at this moment to limit the warming of our planet and limit the warming for generations to come," US Secretary of State John Kerry told the The New York Times after the meeting in Kigali, Rwanda.
"It is the biggest thing we can do in one giant swoop."
The deal has been dubbed the Kigali Amendment, reflecting where the deal was signed, and builds upon the 1987 Montreal Protocol, which banned similar harmful gases such as chlorofluorocarbons.
It is the second major development for climate change in a matter of weeks after the 2015 Paris Agreement on global warming passed its required threshold last week (5 October) following ratification by India, Canada and the European Parliament.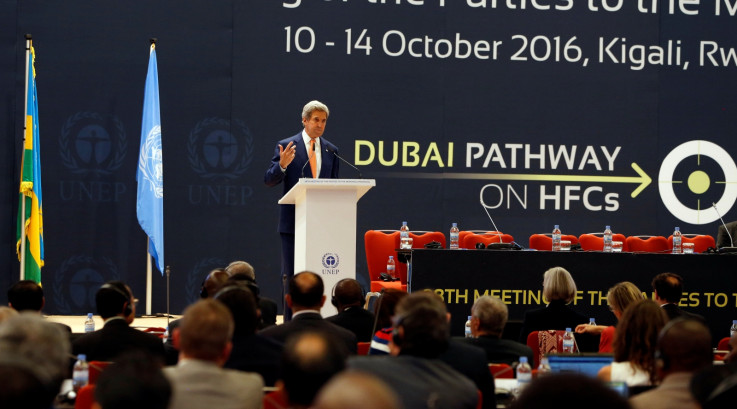 US Secretary of State John Kerry delivers his keynote address at the Kigali conference in Rwanda
Reuters
However, unlike the Paris Agreement, the Kigali Amendment is legally binding with specific timetables on reductions.
Wealthier nations, including most of Europe and the US, have committed to reducing their use of HFCs by 10 percent by 2019 and 85 percent by 2036. Other signatories will freeze their use by 2024 or 2028, and gradually reduce their use thereafter.
The treaty has been seven years in the making. As Rwanda's Minister for Natural Resources, Vincent Biruta, announced the deal on Saturday morning, Reuters reported that he was drowned out by the applause of negotiators who had spent all night ironing out the final details.
"Last year in Paris, we promised to keep the world safe from the worst effects of climate change. Today, we are following through on that promise," UN environment chief Erik Solheim stated in a statement.