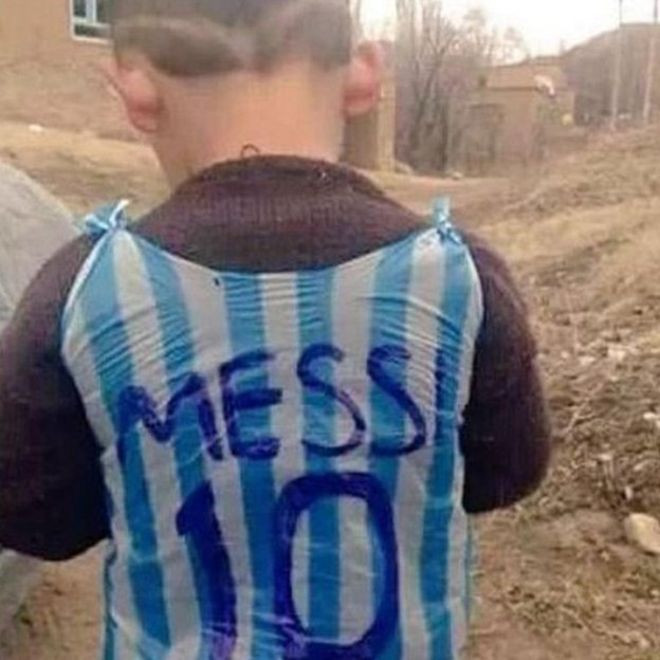 A global search is on to find an Iraqi boy who was photographed in a Lionel Messi football shirt made from a plastic bag. The image has gone viral on social media, after thousands of people were moved by the football loving little boy.
Dubbed Messi's biggest fan, the little boy with his back to the camera had ingeniously fashioned a football shirt out of a blue and white plastic carrier bag, scrawling the words Messi 10 on the back.
The poignant image prompted an outpouring of interest and concern for the child, with supporters of the Argentinian player desperately trying to track the child down in order to give him a real football shirt to wear.
While Lionel Messi himself has not commented on the image, a Twitter account run by Messi fans claims to have contacted the Barcelona star's representatives, who are reportedly also keen to help. Messi10stats tweeted: "They want to know who this kid is so that Leo can arrange something for him."
Spanish-language football blog Juez Central expressed the sentiment of many as he commented on the moving photo. "Tremendous image. A child in Iraq manages to play in his idol's T-shirt. The Beautiful Game."
"Too cute! Hope they find him," read one tweet. "Little boy in war-torn Iraq wears a Lionel Messi football shirt made from a plastic bag," read another.
Twitter user @illMindOfRobin appears to be the first person to have posted the image that has captured the imagination of people all over the world. He posted the picture on 13 January, with the caption: "Messi in Kurdistan" and "Messi in Duhok, Iraq".
Speaking to BBC Trending @illMindOfRobin revealed he is a high school student living in Sweden. He explained that his parents grew up in Dohuk and posted the picture because he wanted to give the place some "slight recognition".
It's thought he found the photo on Kurdish social media and is now eager to find the original source of the image and the child. It is not clear where or when the picture was taken, but reports online suggest the boy may be living in Dohuk, Iraq, where thousands of families have fled to refugee camps to escape ISIS.
Circulating the image on Twitter he wrote: "Ok i need help. Please RT this so we can find this kid. Want to buy him a Messi jersey. I've looked for so long. Has anyone found this picture posted anywhere on the 13 of January or before?"
Messi, who has won a record five Ballon d'Ors awarded each year to the world's best footballer, last year donated £315,000 to the United Nations Children's Fund (UNICEF). A football signed by the striker also sold for £45,000 which was also donated to UNICEF.