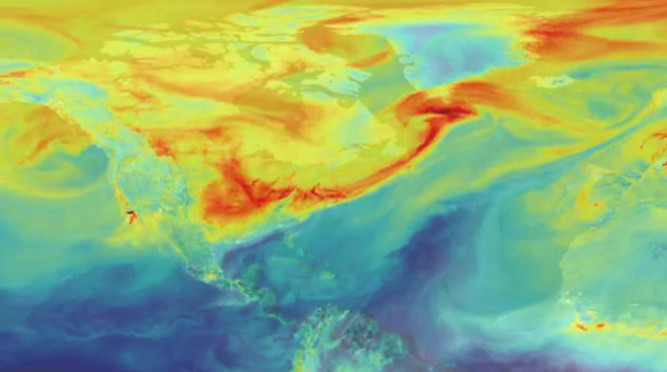 A computer model developed by scientists at NASA's Goddard Space Flight Center provides a high-resolution picture of how carbon dioxide released from earth is dispersed across the globe.
The simulation shows differences in the circulation of the greenhouse gas in the northern and southern hemispheres as also in different seasons.
Besides helping scientists to study how various carbon emission sources and weather systems produce differing concentrations on a regional scale, it can help project future climate, says a Nasa press release.
While ground-based observations for the last few decades are available, the computer simulation adds to understanding the natural fluxes of the carbon dioxide around the globe.
The resolution of the model is approximately 64 times greater than that of typical global climate models. Climate variables like temperature, pressure and winds are resolved on a horizontal grid of boxes 7 kms wide as against the prevailing 50 km resolution of existing models.
Produced by a computer model called GEOS-5, the visualization is part of a simulation called a "Nature Run." The Nature Run uses real data on atmospheric conditions and the emission of greenhouse gases and particulates. It is then left to run on its own and simulate the natural behaviour of the atmosphere.
The present Nature Run simulates May 2005 to June 2007.
"We're very excited to share this revolutionary dataset with the modelling and data assimilation community," Bill Putman, lead scientist on the project said, "and we hope the comprehensiveness of this product and its ground-breaking resolution will provide a platform for research and discovery throughout the Earth science community."
Atmospheric carbon dioxide exceeded 400 parts per million across most of the northern hemisphere this year. Prior to the Industrial Revolution, carbon dioxide concentrations were about 270 parts per million. Human activity centred around the burning of fossil fuels like coal and oil have been the main drivers behind this steep increase.
While the mechanism of how the gas heats up the atmosphere is known, the pathways it takes from its sources has not been understood.
Besides carbon dioxide the Nature Run also simulates movement of winds, clouds, water vapour and airborne particles such as dust, black carbon, sea salt and emissions from industry and volcanoes.