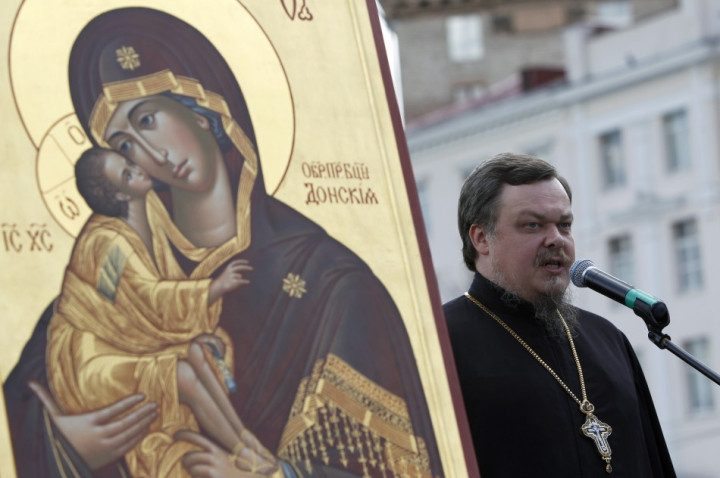 The feminist punk band Pussy Riot are being judged by God, according to a top official in the Russian Orthodox church.
Three members of the band are on trial in Moscow on hooliganism charges after performing a protest song against Vladimir Putin inside the Christ the Saviour Cathedral.
Archpriest Vsevolod Chaplin, acting spokesman for the church, it is God himself who Yekaterina Samutsevic, Nadezhda Tolokonnikova and Maria Alyokhina are being judged by.
He told the Guardian: "It was a sin against God and it is God that is judging it. All Christians should know this".
The girls, who have pleaded not guilty, apologised in court for any offence to Orthodox Christians on the first day of their trial, but Chaplin was still demanding repentance.
He said: "For Orthodox Christians their holy places, holy objects and holy names are the most precious things in the world. You know very well how explosive were the acts of burning the Koran. And I am deeply concerned about the future of any society in which extremely divisive actions are ignored."
The case has politcial overtones that have increased tension, as human rights groups have called for the girls to be released.
The head of the Moscow Helsinki Group, Lyudmila Alekseyeva, said: "They must be released, they must be apologised to, they must receive compensation for the time they've spent in custody.
"Is it sane to keep people under arrest for such a petty offence? Even more so given some of them have small children. The court's decision will depend not on the law, but on what the Kremlin wants."
Pyotr Verzilov, the husband of Tolokonnikova, told the BBC: "It's Putin and his closest assistants leading this case.
"It shows that in the 12th year of controlling Russia, Putin is starting to lose the boundaries. He no more understands the limits of what he can do and what he cannot do."
The trial continues.