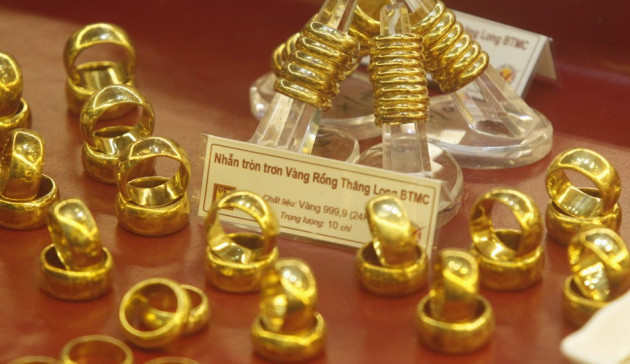 The price of gold has tumbled further to its lowest level in nearly three years as investors remain concerned about the Federal Reserve's plans to cut down its monetary stimulus.
The precious metal fell below $1,200 (£787, €921) per ounce to its lowest since August 2010 on Friday, and was on track to post its worst quarter on record. Gold spot prices rose 0.18% to 1,202.84 as at 5:27 a.m. ET.
Since the Fed Chairman Ben Bernanke last week hinted a cut in the bank's $85bn monthly bond purchases, gold has shed as much as 15% or $200 an ounce. Gold prices declined by 25% for the second quarter, its biggest quarterly loss dating back to 1968, according to Reuters data.
The lower prices have failed to renew physical demand in Asia, especially in China and India, who are the largest importers of physical gold. Chinese traders have stopped buying gold, while demand in India remains muted. In addition, investors continued to exit exchange-traded gold funds. In the first quarter, a significant rise in jewellery imports into India and China lifted global demand for gold jewellery by 12% year-on-year, according to the World Gold Council.
Amid the global economic crisis, gold prices benefited during the past two years as investors considered the precious metal as a safe haven for their investments. Investors use gold as a hedging bet against rising inflation. In 2011, the prices skyrocketed to $1,895 per ounce.
However, the expected cut in the Fed stimulus have eased concerns of higher prices because less central bank cash will ultimately flow into financial institutions. The move will also raise interest rates, making gold a less attractive investment.
"Gold's own status as a safe haven has been undermined by the recent weakness and volatility in prices, at the same time as the markets are regaining confidence in the US dollar," said Julian Jessop, chief economist at Capital Economics.
Goldman Sachs recently projected gold prices to come down to about $1,050 by the end of 2014. Earlier this week, the Standard & Poor's rating agency also cut its outlook on gold prices.
"The question now emerges to whether we are going to see further unwinding of speculative positions or whether the activity of bargain hunters is going to provide some upside but the risks are still very much to the downside," Mitsubishi analyst Jonathan Butler said.