Golden Dawn: Greece's Neo-Nazi Party is Europe's 'Dark Stain'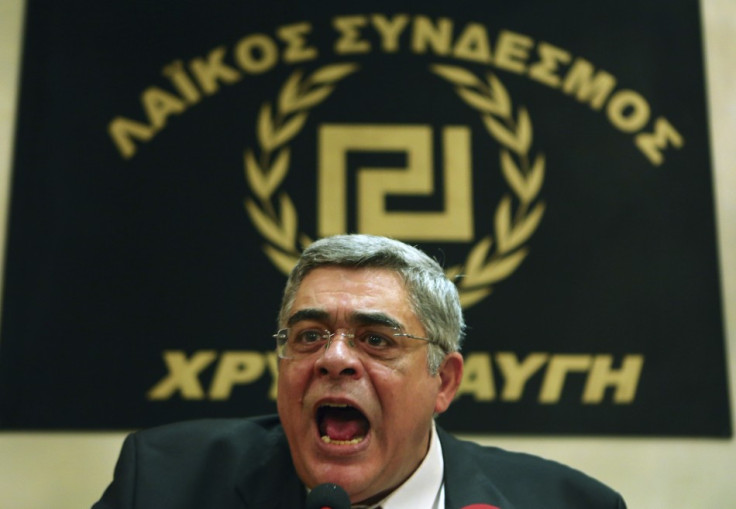 The Golden Dawn spokesman's assault on two women left-wing MPs is just the latest incident in what is regarded as the most extreme of Europe's far-right movements to enter parliament.
Jumping from 0.46 to 7 percent of support in just three years, the party led by defiant Nikos Michaloliakos gained 21 seats at Greece's parliament, stunning Jewish organisations.
Despite his strong rejection of any affiliation with Nazism, Michaloliakos' remarks on Nazi concentration camps - he denied the existence of ovens and gas chambers - as well as the party fetish for all things Third Reich seems to contradict it.
Moreover, the party's emblem, a squared spiral, and its colours closely resemble the swastika. Michaloliakos even made a Hitler-style salute when elected in 2010 to Athens city council.
In 2000, Golden Dawn symbols appeared in vandalised Jewish cemeteries in Thessaloniki and Athens, as well as in the Monastiroton synagogue, a memorial for Holocaust.
But it is with the language and strategy that Golden Dawn bears the closest resemblances with Nazism.
They have a long track of terrorising immigrants, leftists and journalists - especially women. Thus, it was no surprise to when its spokesman lashed out on two female members of Greek's left live on TV.
Before the YouTube video that made the headlines all over the Western world, showing muscular supporters of the party urging journalists to rise from their seats as a sign of respect for Michaloliakos, Golden Dawn threatened Greek journalist Xenia Kounalaki.
She caused the party's anger for writing an article about the neo-Nazi movement in the German weekly Der Spiegel.
"It was a 2,500-word-long personal attack," she related to the Guardian. "[They] recounted my entire career, mocked my alleged foreign roots (I was born in Hamburg) and even, for no apparent reason, mentioned my 13-year-old daughter."
"The unnamed authors indirectly threatened me as well, 'To put it in the mother tongue of foreign Xenia: "Kommt Zeit, kommt Rat, kommt Attentat!"' In other words, watch your back."
Motorcycle raids on Pakistani and Afghan immigrants
Attacks against immigrants have intensified rapidly in Greece's capital Athens since latest elections - a trademark of the party's sinister ambitions.
Golden Dawn gained notoriety after 1991, when it began attacking the Albanian immigrants and after some of its members participated in the notorious Srebrenica massacre of Muslims in Bosnia. Motorcycle raids involving members of the party against Pakistani and Afghan immigrants have occurred in the last week.
"Golden Dawn, like we have said before, denies any involvement with incidents of violence and condemns the police's role in the state mechanism's fight against our party," read a statement from the party.
Golden Dawn MPs Ilias Panagiotaros and Ioannis Vouldis were detained along with Michaloliakos's daughter for the attack against a Pakistani man last week, but were later released.
Golden Dawn's anti-immigration campaign is based on the slogan "So we can rid this land of filth".
"No one should fear me if they are a good Greek citizen. If they are traitors - I don't know," Michaloliakos said.
As it gained momentum in the polls before the May 6 elections, a brief coalition government of the New Democracy Conservatives and PASOK Socialists, who supported the austerity measures, responded by cleaning out the Omonia Square area of Athens and other neighbourhoods of illegal immigrants and sending them to detention camps.
An order from the jailed military junta
The first glimpse of Golden Dawn came into Michaloliakos's mind after his arrest in 1976 after an attack on journalists who were covering the funeral of the junta torturer Evangelos Mallios, who had been executed by the guerrilla organisation 17 November.
In prison, he met the leaders of the military junta in jail, especially the prominent general George Papadopoulos who ordered him to found the party in 1985. The organisation was listed as a political party in 1993 and won political representation in 2010 when Michaloliakos was elected to the Athens City Council.
Among Michaloliakos's most stunning outbursts, his insults to Germans, who were called "enslaved folk, that has totally bowed to the consuming way of life. A folk of sausage-eaters without ideals".
European Jewish organisations have called on European governments to ban the party from the political scene. Expressing concerns about the rise of anti-Semitism on the continent, Moshe Kantor, president of the prominent European Jewish Congress has called Golden Dawn "a dark stain on European politics".
""For the first time in over six decades a seemingly long hidden Nazi ideology returned to power," he said.
© Copyright IBTimes 2023. All rights reserved.