Killah P Murder Protest: Golden Dawn Athens HQ in Lockdown as Demonstrators Try to Storm Building
Petrol bombs thrown and bank windows smashed as anti-fascist protesters frustrated by police cordon around neo-Nazi office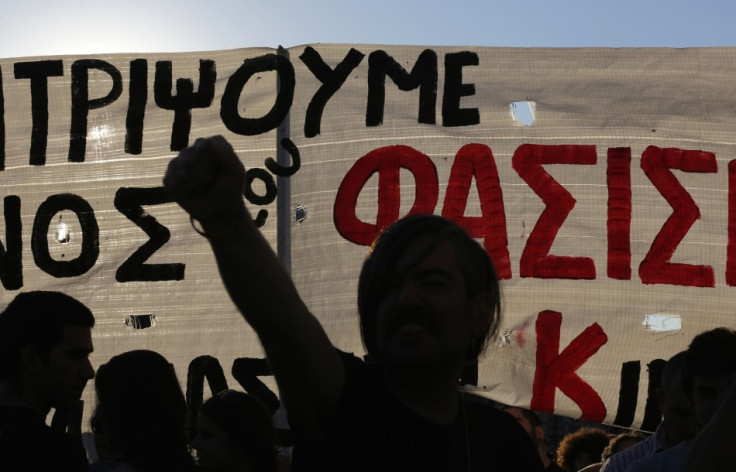 Police fired teargas at protesters attempting to storm the Golden Dawn headquarters in Athens as thousands of anti-fascists had gathered to show their anger at the alleged murder of a leftwing rapper by a member of the neo-Nazi group.
In the largest mass protests since the killing of Pavlos Fyssas, stage name Killah P, 10,000 students, leftwing activists and unionists gathered in Athens while 2,000 congregated in Thessaloniki, the country's second largest city.
In Athens' Syntagma Square a hip-hop concert was held in memory of Fyssas in a sea of anti-fascist banner slogans.
"First it was the immigrants, then Fyssas, tomorrow it could be your son or daughter - everyone needs to understand this," Vangelis Georgountzos, 59, said.
Groups broke from the largely peaceful main protest and clashed with police who had cordoned off Golden Dawn's headquarters, 5km from the city centre. Rocks and petrol bombs were thrown at police lines and and the windows of businesses and banks were smashed.
The police responded with teargas volleys.
A number of arrests were reported on social media.
The protest overshadowed a 48-hour public sector strike over austerity measures demanded as a condition for further financial bailouts by international creditors.
The government signalled that it was finally taking accusations that Golden Dawn had infiltrated the country's security services seriously by removing several top police officers from their posts and raiding party offices throughout the country.
There has been mounting anger in Greece at police failure to investigate crimes allegedly committed by Golden Dawn activists and politicians.
A 45-year-old unemployed truck driver, George Roupakias, has been charged with murdering Fyssas. He denies the charge and claims that he was acting in self-defence.
A senior court official told Reuters that prosecutors had found fingerprint and photographic evidence linking a Golden Dawn member to gang attacks on opposition activists and immigrants.
Exploiting people's hostility towards immigrants in the wake of the recession that has devastated the Greek economy, Golden Dawn has risen to become the country's third most powerful political force. Emboldened by its success, it has become more brazen and more aggressive in its tactics of late.
Earlier this month masked Golden Dawn thugs armed with crowbars attacked communists leafletting in a working class district in Athens. Nine people were taken to hospital.
© Copyright IBTimes 2023. All rights reserved.