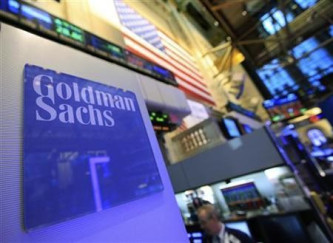 Senior bankers at Goldman Sachs reeled in an average £2.7m in 2012, according to remuneration details unveiled in the bank's end of year report.
Goldman documents, which reveal details for 115 of its staff, show that senior employees received a 50% pay deal rise year-on-year.
The Wall Street giant is under European Union (EU) obligation to publish pay details of those who take and manage risks, dubbed 'code staff', in a bid to stay compliant with new regulations.
Goldman's revelations reveal that it paid them £122m (€146m, $202m) in cash and £200m in shares, which they receive over three years.
However, the code staff must hold onto the shares for five years before they are able to cash them in. Therefore, since exact value of the stock awards will not be known for five years, the total payout could rise further.
In 2011, the 115 Goldman code staff received £1.8m and, in 2010, the employees received £4m.
Overall, Goldman revealed earlier this year that its total workforce was paid an average of $400,000 each in 2012, a rise of more than $30,000 on 2011.
According to a new report by the European Bank Authority (EBA), 2,714 bankers earned more than €1m in the United Kingdom during 2012.
Germany came a distant second, with 212 bankers earning a seven-figure euro salary.
Third on the list was France with 177, Italy was fourth with 109 and Spain was fifth with 100.
Under EU regulation, UK banks revealed their code staff remuneration plans earlier this year.
Barclays revealed it paid 393 code staff an average of £1.3m, while Royal Bank of Scotland paid 368 code staff an average of £701,000.