Armed with a pair of black cardboard, scissors and limitless imagination, Lotte Reiniger is renowned for creating visually stunning and fantastical films, and the German film-maker continues to be a towering figure in the world of animation. In a celebration of Reiniger's accomplishments, Google is celebrating her 117th birthday on 2 June with an animation to match the intricate visual artistry of the pioneer herself.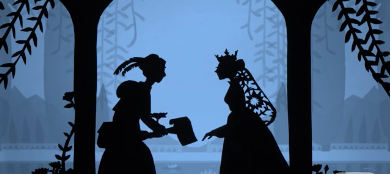 Born in Berlin-Charlottenburg in 1899, Reiniger became enthralled with the Chinese art of silhouette puppetry from a young age and she even built her own puppet theatre to entertain friends and family. Reiniger would go on to leave Nazi Germany and, reflecting on the period later, she said: "I didn't like this whole Hitler thing and because I had many Jewish friends whom I was no longer allowed to call friends."
Reiniger used a technique known as stop motion, which entailed moving her detailed creations in increments between frames to and she is widely credited with making the world's first full-length animated film, The Adventures of Prince Achmed. Reiniger worked on the project with Walther Ruttmann, Berthold Bartosch and her creative partner and husband, Carl Koch, on her most famous work, which took three years to complete.
Paying tribute to Reiniger's contribution to film, Google said: "Pre-dating Walt Disney by nearly a decade, Reiniger pioneered a style of animation that relied on thousands of photos of paper cut-out silhouettes arranged to tell a story. It was a painstaking process that involved moving paper characters ever so slightly and snapping a photo of each movement.
"Nearly a century later, Reiniger continues to inspire animators and artists, including doodler Olivia Huynh who built almost everything, from the puppets to the top down camera rig. On what would have been her 117th birthday, we celebrate Reiniger's limitless creativity and pioneering spirit."
Philip Kemp of the British Film Institute (BFI) noted: "Among the great figures in animated film, Lotte Reiniger stands alone. No one else has taken a specific animation technique and made it so utterly her own. To date she has no rivals, and for all practical purposes the history of silhouette animation begins and ends with Reiniger."